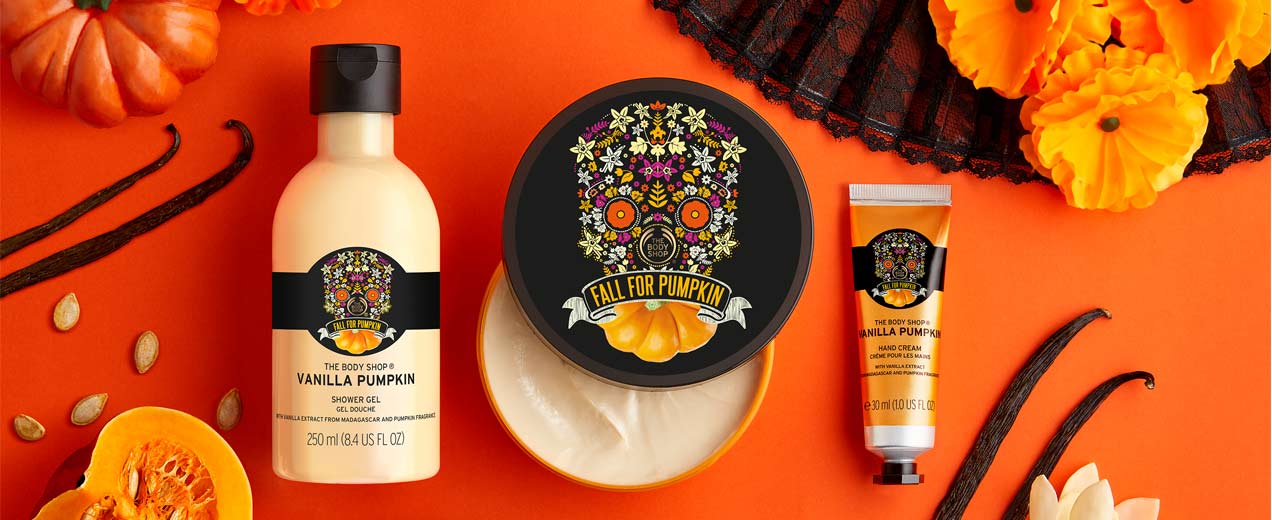 Musim gugur identik dengan perayaan Halloween, Thanksgiving, atau Dia de los Muertos (Day of the Dead) yang dirayakan semarak di seluruh penjuru dunia. The Body Shop ingin Beauty Lovers ikut bergabung dalam kemeriahan ini dan merayakan perbedaan kebudayaan yang begitu indah. Salah satu yang identik dengan musim gugur adalah pumpkin atau labu, itulah mengapa kami menghadirkan rangkaian perawatan tubuh edisi spesial Vanilla Pumpkin yang tepat untuk merayakan perayaan-perayaan di musim gugur kali ini. Keharuman yang manis dan hangat dikemas dengan kemasan sugar skull, ikon Dia de los Muertos dari Amerika Selatan dan Amerika Tengah, serta terinspirasi dengan warna-warni musim gugur yang kaya dan hangat. Anda pasti akan menyukai keharuman dari Vanilla Pumpkin ini! Diperkaya dengan vanilla dari Madagaskar yang manis, roasted pumpkin seeds, tonka bean, hazelnut, dan maple syrup, terbayang kan manisnya?
HOW DOES THE VANILLA PUMPKIN PROTECT OUR PLANET?

Vanilla Pumpkin Body Butter dan Hand Cream diperkaya dengan Community Trade shea butter, yang diperoleh secara berkelanjutan dari Tungteiya Women's Shea Butter Association di daerah Ghana Utara. Pendiri The Body Shop, Anita Roddick, memulai kerja sama ini sejak tahun 1994 setelah bertemu dengan perempuan-perempuan inspirasional yang memproduksi shea butter. Lebih dari 500 perempuan mengumpulkan kacang shea yang baru saja terjatuh dari pohon dan menggunakan teknik tradisional untuk menciptakan shea butter. Bahkan mereka melalui 18 tahapan proses yang diturunkan dari generasi ke generasi. Beberapa dari biji itu ditanam kembali untuk menjadi pohon baru. The Body Shop juga membayar upah yang layak untuk membantu Tungteiya berinvestasi di dalam proyek komunitas yang menguntungkan lebih dari 45.000 orang setiap tahunnya. The Body Shop juga adalah salah satu anggota pendiri Global Shea Alliance, sebuah organisasi yang mengajak industri-industri untuk mencapai keberlanjutan dalam sektor pertanian.