OUR REFILL PROGRAM
"Why waste a container when you can refill it? And why buy more of something than you can use? We behaved as my mother did in the Second World War, we reused everything, we refilled everything, and we recycled all we could (...) The foundation of The Body Shop's environmental activism was born out of ideas like these" - Anita Roddick, Body & Soul
Join the refill revolution with our irresistible in-store refill stations.
---
ABOUT OUR REFILL STATION
Mari kita tunjukkan aksi yang nyata untuk membersihkan planet ini, dan kita bisa memulainya dari revolusi pengisian ulang! Saat ini, The Body Shop® sedang mengembangkan refill station di 500 store yang ada di seluruh dunia. Di Indonesia, kami sudah memulainya di tahun 1992 saat The Body Shop® pertama kali buka di Indonesia, dan kini refill station hadir kembali dengan inovasi yang lebih modern. Di store tersebut, kamu bisa mengisi ulang beberapa produk dengan membawa kemasan botol alumunium kami.
Kami ingin menginspirasi lebih banyak orang untuk jangan langsung membuang sebuah kemasan, tapi untuk memanfaatkannya kembali. Karena itu, kami ada di sini untuk membantumu menjalankannya lebih nyaman dan mudah! Melalui circular economy, kami mengajakmu untuk bersama-sama #KerenTanpaNyampah dan aksi kecil kita ini bisa memberikan dampak yang besar lho. Pilih kemasan refill, dan kita bisa menghemat lebih dari 25 ton plastik setiap tahunnya. Usaha kecil ini akan membuat bumi lebih baik, dan juga bisa membuatmu lebih berhemat!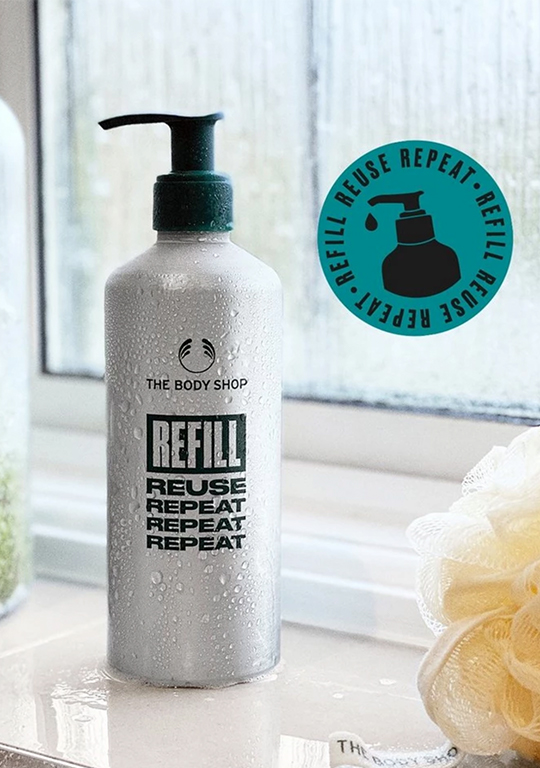 HOW DO I REFILL?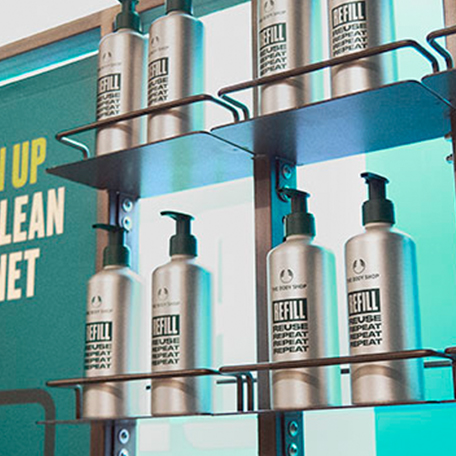 STEP 1
Pilih salah satu botol aluminium kami di The Body Shop Kota Kasablanka.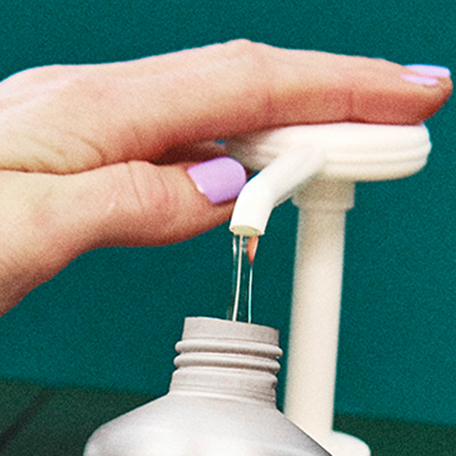 STEP 2
Mintalah kepada staff kami untuk mengisinya dengan dengan rangkaian produk body wash, haircare, atau hand wash pilihan.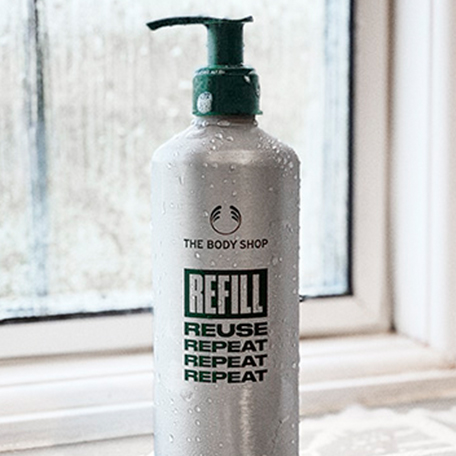 STEP 3
Setelah produk favorit kamu sudah habis, cuci botol aluminium kamu, keringkan, dan kembali ke store untuk mengisi ulang kembali.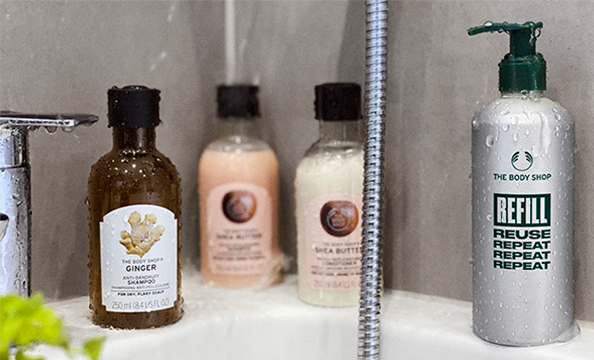 WHAT CAN I REFILL?
Kamu bisa mengisi ulang berbagai produk favoritmu lho! Yuk pilih varian refill yang tersedia saat ini:
- Moringa, British Rose, dan Strawberry Shower Gel
- Almond Milk & Honey Shower Cream
- Shea dan Tea Tree Hand Wash
- Ginger Shampoo dan Conditioner
- Shea Shampoo dan Conditioner
HOW DO I CLEAN MY BOTTLE?
Let's rinse, refill, and repeat! Sebelum mengisi ulang di store, jangan lupa untuk bersihkan botolnya terlebih dahulu dengan cara berikut:
Bersihkan botol terlebih dahulu dengan air hangat, kocok dengan kuat untuk menghilangkan sisa produk di dalam botol.
Setelah itu, isi botol dengan air hangat lagi dan pompa airnya untuk membersihkan bagian pump. Ulangi langkah ini sampai air yang keluar sudah tidak bersabun.
Gunakan air dingin untuk membersihkan kembali botol dan pump secara keseluruhan.
Keringkan botol dan pump sebelum dibawa ke store untuk diisi ulang.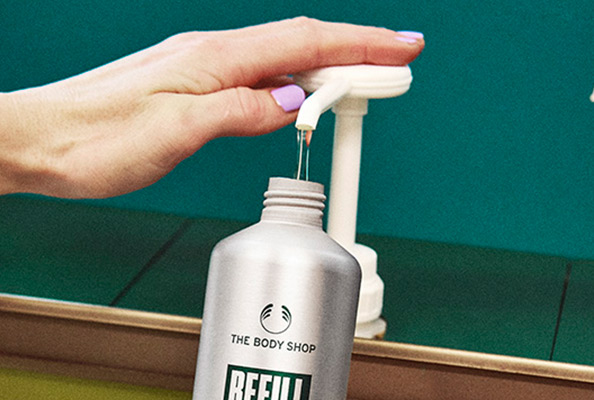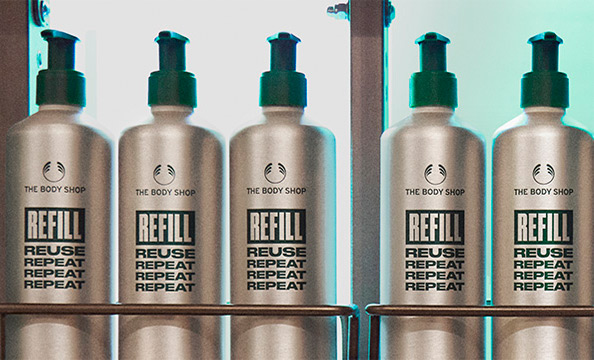 WHERE CAN I REFILL?
Saat ini kamu bisa mendapatkan kemasan refill di The Body Shop®️ Kota Kasablanka Jakarta, The Body Shop®️Paris van Java Bandung dan The Body Shop® Hartono Mall Yogyakarta . Tapi jangan khawatir, kami akan hadir di beberapa kota lainnya!
WHAT WILL I BE DOING FOR THE PLANET?
Menggunakan kemasan isi ulang adalah langkah sederhana untuk mengurangi plastik. Kami ingin mengurangi siklus sampah namun tetap memberikan produk favoritmu dengan baik. Langkah kecil ini juga dapat memberikan perubahan yang besar. Karena itulah kami mengajakmu beralih ke kemasan refill agar sama-sama kita bisa menghemat lebih dari 25 ton plastik tiap tahun. Inilah bentuk komitmen kami untuk terus memberdayakan manusia dan bumi ini melalui cara-cara yang mudah dan baik.
Yuk sama-sama kita bisa #KerenTanpaNyampah!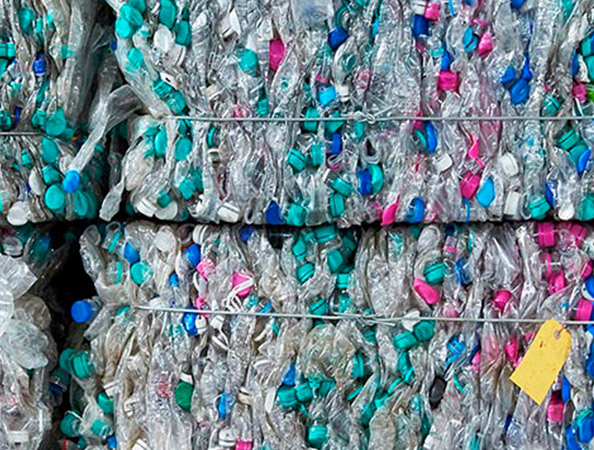 Please welcome our 1st Refill Station in Indonesia!!
Di sini, kamu bisa refill produk favorit kamu seperti shampoo, body wash, conditioner dan hand wash tentunya dengan harga yang lebih murah. Remember, tujuanku adalah untuk mencapai circular economy . Sebuah sistem ekonomi yang menggunakan sumber daya secara terus menerus hingga nggak menghasilkan sampah.
Yuk, cobain Refill Station-ku! There's no time to waste
---
WHAT DO YOU THINK ABOUT MY REFILL STATION?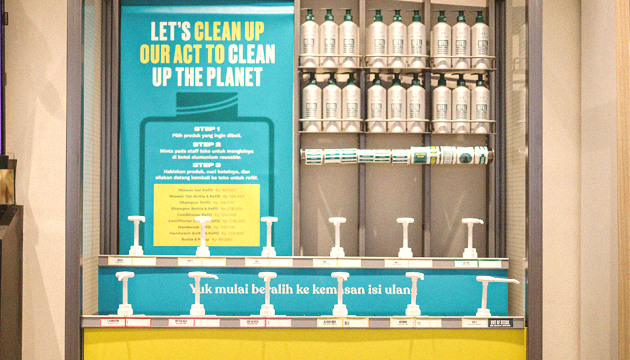 Beauty Lovers, kamu sudah mencoba Refill Station-ku kan? Yuk, ceritakan pengalaman kamu di Refill Station-ku sekarang! #KerenTanpaNyampah