Apa saja kemudahan yang ditawarkan?
1. Go Cardless. Tidak usah membawa kartu LYB kemana pun anda pergi, hanya tinggal bawa smartphone anda dan tunjukan virtual card anda ketika berbelanja. Tidak perlu takut apabila kartu hilang lagi.
2. Real Time Information. Sering penasaran berapa jumlah poin, status membership anda, bahkan sejarah pembelanjaan anda? Dengan aplikasi mobile The Body Shop Indonesia, anda tidak perlu repot ke toko untuk bertanya. Tinggal buka halaman profile dan pilih informasi yang anda ingin ketahui. Semua akan terupdate secara otomatis.
3. Source of Information. Semua informasi terkait produk, berita terkait values, serta informasi terbaru dari The Body Shop Indonesia ada disini.
4. Selalu update dengan promo-promo terbaru di The Body Shop Indonesia Silakan kunjungi Google Play Store dan IOs App Store untuk mendownload aplikasi The Body Shop Indonesia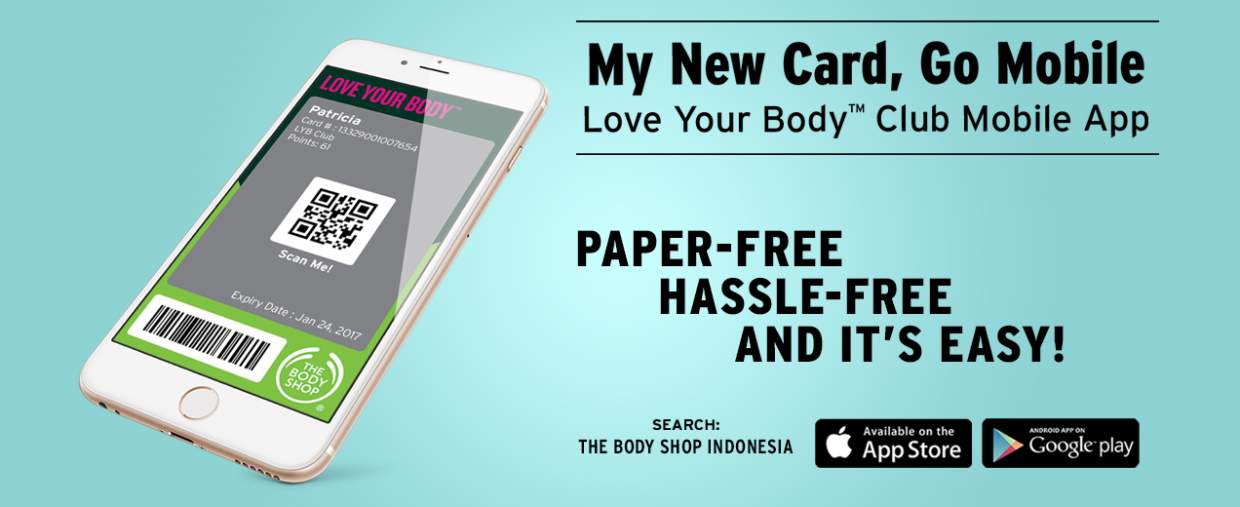 FREQUENT ASK QUESTIONS
Q : Dimanakah saya bisa mendownload aplikasi mobile The Body Shop?
A : Aplikasi The Body Shop Indonesia hanya tersedia untuk smartphone berbasis Android dan iOs. Oleh karena itu, aplikasi The Body Shop ini hanya dapat didownload melalui Google Play Store dan App Store.

Q : Apakah ada minimum requirement untuk mendownload aplikasi ini?
A : Ada. Minimum requirement untuk Android adalah versi 4.0.3. Sedangkan untuk iOs adalah versi 8.

Q : Saya tidak bisa menerima Push Notification, bagaimana caranya agar saya bisa menerimanya?
A : Apakah di smartphone Anda memiliki aplikasi auto-start manager? Apabila iya, mohon mengaktifkan aplikasi The Body Shop Indonesia di auto-start manager.

Q : Saya pengguna iPhone, saya jarang sekali menerima push notification. Kenapa ya?
A : Settingan dari iPhone tidak memperkenankan kami mengirimkan notifikasi. Bapak/Ibu bisa mengecek Inbox di dalam aplikasi kami secara rutin untuk mengetahui special promo atau informasi special untuk pengguna mobile app.

Q : Benefit apa yang ditawarkan oleh aplikasi ini?
A : Dengan aplikasi ini, Anda tidak perlu membawa-bawa kartu member lagi karena sudah ada virtual card. Di virtual card ini juga, status membership serta jumlah point anda akan langsung terupdate secara real time. Selain itu, Anda juga dapat melihat sejarah pembelanjaan Anda di profile. Masih banyak lagi benefit lainnya yang bisa anda dapatkan dengan menggunakan Mobile App ini.

Q : Saya mencoba login tetapi tidak bisa dan muncul informasi "Invalid Credentials"
A : Invalid Credentials berarti informasi yang anda masukan kurang tepat. Mungkin ada nomor yang salah atau tanggal lahir yang berbeda dengan yang ada di sistem kami. Untuk lebih jelasnya, anda dapat menghubungi Customer Care kami.

Q : Saya mencoba login tetapi tidak bisa dan muncul infomasi "Details are already being used"
A : Informasi ini muncul karena data bapak/ibu sebenarnya sudah tercatat di dalam database kami. Bapak/Ibu dapat menghubungi Customer Care kami atau datang ke toko terdekat untuk dilakukan pengecekan nomor member.

Q : Saya mencoba login menggunakan facebook, ketika ada pertanyaan apakah saya memiliki kartu member, saya jawab No, I don't have. Tiba-tiba muncul informasi No Connection. Ketika saya coba klik No, I don't have lagi, dikatakan Details are already being used. Kenapa?
A : Sepertinya No Connection itu muncul ketika koneksi provider ibu/bapak terputus dengan jaringan tetapi sebenarnya data ibu/bapak sudah masuk. Ibu/bapak bisa pilih login with facebook lagi dan biasanya sudah bisa masuk ke halaman utama aplikasi kami.

Q : Saya pengguna iPhone, tetapi tidak bisa menemukan aplikasi The Body Shop Indonedia di app store?
A : Apakah bapak/ibu membeli handphone di luar negeri, silakan mengganti country setting di App Store untuk dapat mendownload aplikasi kami.
Cara mengganti Country Setting:
1. Buka Settings
2. Pilih iTunes & App Store
3. Pilih Apple ID – View Apple ID – Masukan password anda – Anda akan masuk ke halaman account
4. Pilih country/region – Pilih Change Country or Region – Pilih Indonesia – Lalu Next
5. Biasanya anda akan diminta untuk melengkapi kembali detail pembayaran anda apabila anda membeli aplikasi dari app store lalu next
6. Setelah selesai anda dapat mencari kembali aplikasi kami.

Q : Saya sudah berbelanja menggunakan mobile app, kenapa poinnya belum masuk ya?
A : Poin akan real time masuk setelah bapak/ibu menyelesaikan transaksi. Silakan melakukan pull refresh (sentuh screen dan tarik ke bawah) pada halaman profile untuk merefresh aplikasi kami. Untuk purchase history akan terupdate maksimal 1 x 24 jam setelah melakukan transaksi

Q : Saya bingung cara pengoperasian aplikasi ini, dimana saya bisa bertanya?
A : Anda dapat mengunjungi www.thebodyshop.co.id untuk informasi detail terkait LYB Mobile App atau hubungi Customer Care kami di 1500 827
DAPATKAN BERAGAM KEMUDAHAN DENGAN MENGGUNAKAN APLIKASI MOBILE THE BODY SHOP INDONESIA