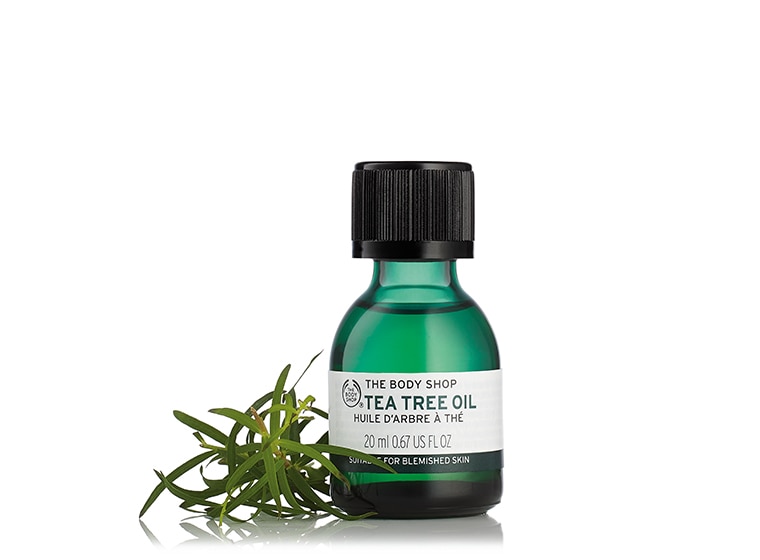 Bagi banyak orang, memiliki jerawat tentu akan sangat menjengkelkan. Berbagai cara pun akan dilakukan seperti membeli obat mahal agar jerawat tersebut segera hilang. Namun, hal ini belum tentu aman. Sebenarnya ada banyak cara alami menghilangkan jerawat yang bisa dilakukan dan tentu saja murah.
Tapi terlebih dahulu, Anda harus memastikan diri untuk menghindari penyebab munculnya jerawat. Sebagai contoh, rajin mencuci wajah, hindari mengonsumsi makanan berminyak dan tidak sehat, jangan menyentuh jerawat apalagi memencetnya, serta hindari pemakaian make-up yang berlebihan.
The Body Shop pun memiliki beberapa produk untuk menghilangkan jerawat. Salah satu cara alami menghilangkan jerawat adalah dengan menggunakan produk berbahan tea tree oil. Bahan ini dikenal juga dengan nama latin Melaleuca alternifolia. Tea Tree Oil dikenal akan kandungan antibakteri yang dapat mengurangi inflamasi akibat jerawat. Untuk hasil yang cepat dan maksimal, seluruh produk wajah Anda harus konsisten dengan kandungan bahan tea tree oil.
Berikut ini 5 produk tea tree oil alami yang wajib kamu coba!
1. Tea Tree Skin Clearing Facial Wash
Membersihkan wajah adalah hal yang paling penting untuk dilakukan, apalagi setelah seharian beraktivitas. Karena wajah rentan oleh debu, kotoran, atau radikal bebas. Oleh karena itu, membersihkan wajah sebaiknya sering dilakukan minimal 3 kali sehari. Sebab jika tidak segera dibersihkan, maka akan terjadi penumpukan dan penutupan pori-pori kulit sehingga memicu munculnya minyak dan jerawat.
Produk The Body Shop untuk kulit berjerawat adalah produk yang berbahan dasar tea tree oil. Produk tea tree oil yang bisa Anda gunakan sehari-hari adalah Tea Tree Skin Clearing Facial Wash. Pembersih wajah ini terbuat dari gel dengan formula yang mengandung tea tree essential oil yang berasal dari kaki pegunungan di Kenya, sehingga efektif dalam membersihkan secara lembut, menghapus noda, mengurangi jerawat, dan menyegarkan kulit.
2. Tea Tree Squeaky-Clean Scrub
Pilihan lain produk pembersih wajah adalah Tea Tree Squeaky-Clean Scrub yang ampuh untuk mengobati jerawat yang meradang. Kandungan scrub di dalamnya mampu membersihkan minyak serta mengangkat kotoran dan sel-sel kulit mati yang menyumbat pori-pori. Hasilnya kulit wajah akan lebih bersih tanpa menjadikannya kering.
3. Tea Tree Skin Clearing Night Mask
Setelah mencuci wajah dengan produk pembersih wajah tadi, Anda dapat mengaplikasikan masker wajah di malam hari sebelum tidur. Masker wajah yang baik digunakan adalah Tea Tree Skin Clearing Night Mask yang diformulasi dari perpaduan Aloe vera, Salicilyc acid, dan tea tree oil. Beberapa khasiat dari masker ini adalah membuat kulit dapat bernapas lega dengan mengangkat kotoran yang tertinggal serta menyumbat pori-pori.
4. Tea Tree Night Lotion
Jika Tea Tree Skin Clearing Night Mask telah digunakan, Anda bisa menggunakan pelembap wajah ringan berupa Tea Tree Night Lotion. Fungsinya adalah untuk meredakan wajah yang berjerawat, membersihkan bekas-bekasnya yang tersisa, serta sebagai anti bakteri agar jerawat tidak kembali lagi. Gunakan pelembap ini hanya di malam hari.
5. Tea Tree Blemish Gel
Sedangkan untuk aktivitas di siang hari, Anda bisa menggunakan Tea Tree Blemish Gel yang membantu membersihkan dan menjaga kulit dari noda tanpa membuat kulit kering. Formulasi tea tree oil ini dikemas dengan botol mungil sehingga memudahkan untuk dibawa ke mana-mana. Rasakan sensasi dingin pada kulit setelah mengoleskan Tea Tree Blemish Gel.
Baca Juga: 5 Cara Menghilangkan Jerawat dalam Dua Minggu
Nah, tunggu apa lagi? Segera lengkapi seluruh produk alami Anda di The Body Shop yang telah terbukti menggunakan bahan dasar natural tanpa campuran zat kimia untuk menghilangkan jerawat serta bekasnya dan merawat kulit untuk tampil lebih cantik.