Another year, another achievement!
Di penghujung tahun 2020, The Body Shop® Indonesia berhasil memenangkan 2 kategori penghargaan dari PT Wasteforchange Alam Indonesia (Waste4Change) dalam acara Appreciation Day 2020 yang diselenggarakan pada 17 Desember 2020. Dua kategori tersebut adalah Zero Waste to Landfill atas upaya pengurangan sampah yang berakhir di Tempat Pemrosesan Akhir Sampah (TPA) dan Extended Producer Responsibility atas upaya melakukan pertanggungjawaban terhadap sampah dari pelanggan.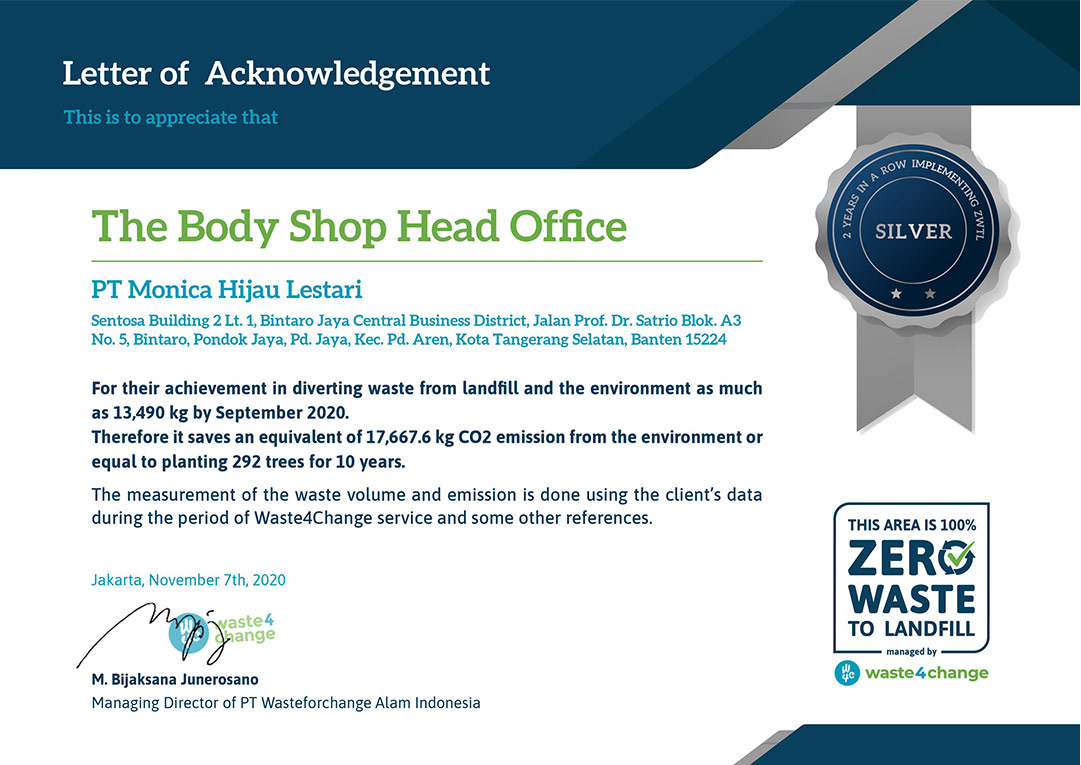 Penghargaan tersebut diberikan atas keberhasilan The Body Shop® dalam mengurangi sampah yang menumpuk di lingkungan dan TPA sebanyak 13.490 kg per September 2020. Ini sama saja dengan menghemat emisi sebanyak 17.667,6 kg CO2 dari lingkungan atau sama dengan 292 penanaman pohon untuk 10 tahun.
Sejak tahun 2008, The Body Shop® aktif berkontribusi dalam pengurangan timbunan sampah kemasan di Indonesia melalui program Bring Back Our Bottles (BBOB). Program dari The Body Shop® Indonesia ini mengajak para konsumen untuk mengembalikan kemasan kosong produk The Body Shop® ke toko-toko terdekat untuk didaur ulang. Hasil pengolahan daur ulang kemasan kosong tersebut juga digunakan untuk pemberdayaan masyarakat. Melalui program BBOB, kami berusaha mengedukasi pelanggan dan publik agar bertanggung jawab terhadap produk kemasan plastik yang telah digunakan sehari-hari.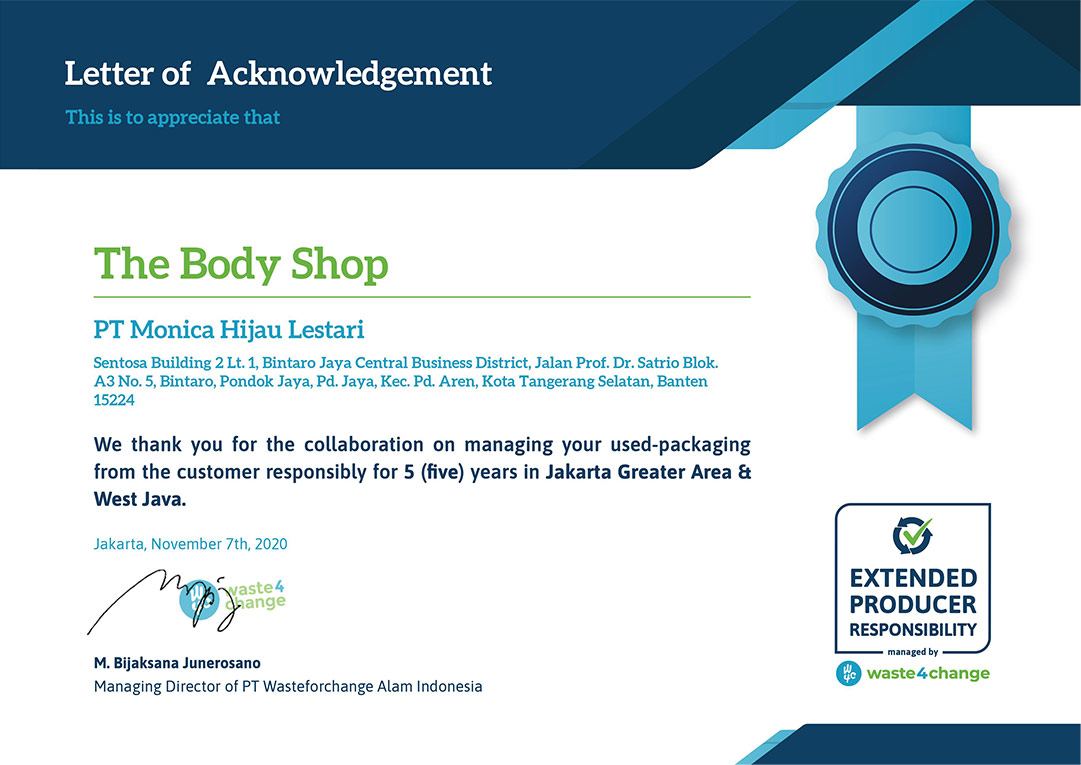 Upaya kami selanjutnya dalam pengolahan sampah bertanggung jawab adalah melalui program Responsible Waste Management. Seluruh sampah yang dihasilkan di lingkungan Head Office kami dipisahkan berdasarkan jenis sampahnya, lalu diangkut oleh Waste4Change untuk dipilah kembali, sebelum selanjutnya diolah menjadi produk layak guna.
Appreciaton Day adalah bentuk apresiasi PT Wasteforchange Alam Indonesia (Waste4Change) kepada para stakeholder dari pemerintahan di bidang terkait, swasta, perorangan, dan media dalam hal perubahan pengelolaan sampah. Selain pemberian penghargaan, acara ini juga menyoroti pentingnya "Kolaborasi dan Komunikasi" dalam mewujudkan pengelolaan sampah berkelanjutan di Indonesia. Appreciation Day ini dibuka oleh dua keynote speaker, Bapak Luhut Binsar Panjaitan selaku Menteri Koordinasi Bidang Kemaritiman dan Investasi RI serta Ibu Siti Nurbaya selaku Menteri Lingkungan Hidup dan Kehutanan RI.
Menurut data Kementerian Lingkungan Hidup dan Kehutanan pada Februari 2019, saat ini Indonesia menghasilkan 64 juta ton timbunan sampah setiap tahunnya. Dari jumlah tersebut, sekitar 60% diangkut dan ditimbun ke TPA, 10% didaur ulang, sedangkan 30% sisanya tidak terkelola dan mencemari lingkungan.
Melalui pencapaian ini, kami berharap dapat menginspirasi lebih banyak perusahaan maupun pemerintah agar bersinergi untuk bersama-sama meningkatkan upaya penyelesaian pengelolaan sampah secara bertanggung jawab.
Simak info lebih lanjut mengenai BBOB di sini:
https://www.thebodyshop.co.id/blog/bring-back-our-bottles