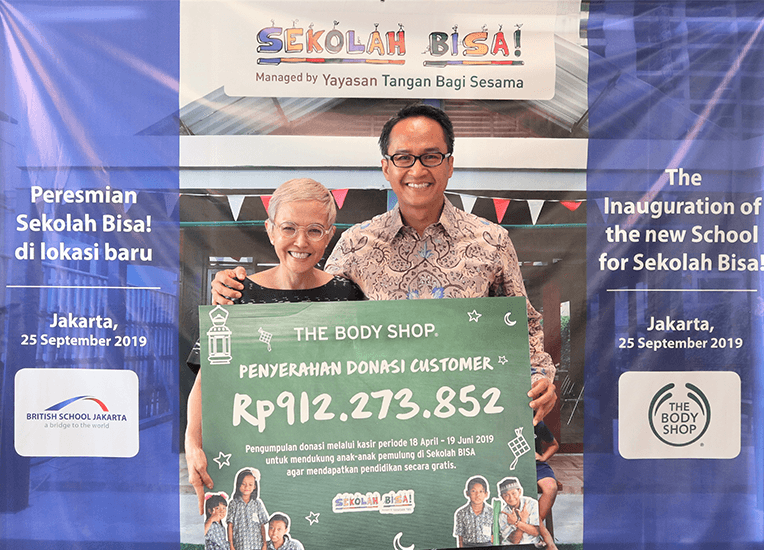 Penyerahan Donasi Pelanggan The Body Shop® kepada Yayasan Tangan Bagi Sesama untuk Sekolah BISA
Tidak hanya dikenal sebagai beauty brand yang selalu menghadirkan produk kosmetik berbahan dasar alami terbaik yang 100% vegetarian, The Body Shop® juga dikenal sebagai perusahaan yang konsisten menjalankan aksi-aksi terkait sosial, lingkungan, hak asasi manusia dan women empowerment dalam rangka membawa perubahan positif. Hari ini, The Body Shop® secara simbolis menyerahkan donasi kepada Yayasan Tangan Bagi Sesama untuk Sekolah BISA sebagai bentuk dukungan bagi anak-anak pemulung di sekitar Bintaro agar memperoleh pendidikan yang layak.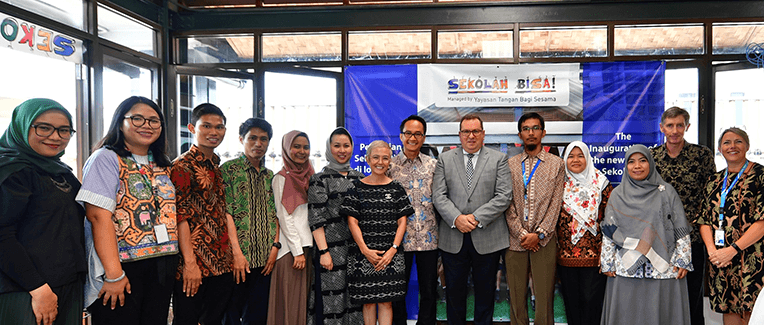 Foto bersama para Relawan Guru, perwakilan pihak The Body Shop®, perwakilan pihak Sekolah Bisa, dan perwakilan pihak British School Jakarta (Mr.David Butcher - BSJ's Principal & Adrian Thirkell - Founder of Sekolah BISA
Aryo Widiwardhono, CEO The Body Shop® Indonesia mengatakan bahwa pada momentum Ramadan tahun ini The Body Shop® Indonesia membuat program donasi kasir yang mengajak customer untuk menyumbang di seluruh store The Body Shop® di Indonesia bagi program Sekolah BISA. "Pengumpulan donasi kasir kami mulai sejak tanggal 18 April hingga 19 Juni 2019 dan selama delapan minggu periode donasi kami berhasil mengumpulkan Rp. 912.273.852 (Sembilan Ratus Dua Belas Juta Dua Ratus Tujuh Puluh Tiga Ribu Delapan Ratus Lima Puluh Dua Rupiah). Ini merupakan pencapaian besar untuk pengumpulan donasi melalui kasir dan ini juga menunjukkan bahwa kepercayaan pelanggan terhadap The Body Shop® sangat besar. Kami mengucapkan terima kasih dan memberikan apresiasi yang tinggi kepada para pelanggan The Body Shop® yang selama ini telah mendukung berbagai program yang kami jalankan, khususnya kepada para donatur yang merupakan loyal customer kami. Hal ini menunjukkan dukungan besar dari pelanggan terhadap concern kami akan hak pendidikan bagi semua anak." ujar Aryo Widiwardhono.
Sekolah BISA didirikan pada tanggal 8 April 2011, atas inisiatif para pelajar dari Program IB Diploma British School Jakarta dengan dasar United Nation Child's Right Concept yaitu setiap anak berhak atas pendidikan. Kemudian The Body Shop® Indonesia dengan tangan terbuka dan senang hati bersedia untuk memberikan lahan tempat bagi murid-murid Sekolah BISA belajar. Tujuan utama dari Sekolah BISA adalah menyediakan pendidikan gratis untuk anak-anak usia Sekolah Dasar yang kurang beruntung dikarenakan keterbatasan biaya sehingga tidak memungkinkan untuk bersekolah. "Sekolah BISA adalah sekolah gratis bagi anak-anak kurang beruntung berusia 6-12 tahun yang berada di bawah naungan Yayasan Tangan Bagi Sesama. Saat ini ada kurang lebih 20 anak didik yang bersekolah di Sekolah Bisa dan berdomisili di sekitar Bintaro. Selain itu, Yayasan Tangan Bagi Sesama juga memastikan kesehatan murid-murid Sekolah BISA dengan cara memberikan makan siang dengan memperhatikan nutrisi dan gizi yang baik, termasuk akses untuk kesehatan seperti pemeriksaan mata dan gigi." kata Dinna Muskita, Ketua Yayasan Tangan Bagi Sesama.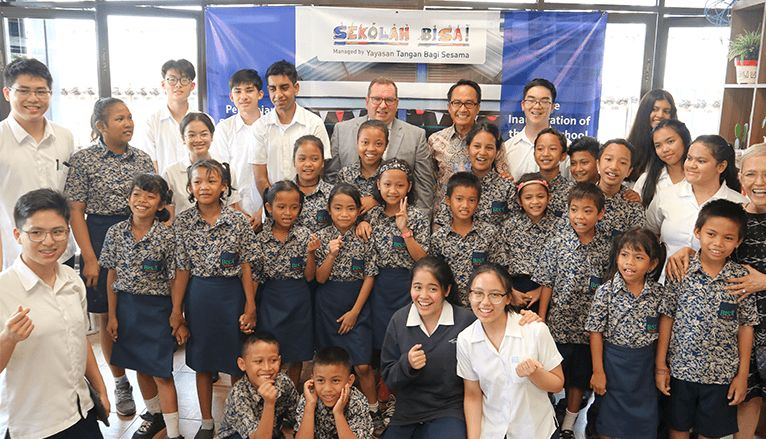 Foto bersama oleh siswa Sekolah BISA dan siswa kelas 12 British School Jakarta
Seluruh donasi yang customer The Body Shop® berikan akan digunakan untuk memfasilitasi pendidikan yang layak bagi anak-anak pemulung di area Bintaro, Tangerang Selatan. Fasilitas pendidikan ini termasuk penyediaan lahan dan gedung, standar kurikulum, dan pengajar yang berkualitas. Learn more about Sekolah BISA