BRING BACK OUR BOTTLES OR UPCYCLE THEM!
Beauty Lovers, punya kemasan kosong produk The Body Shop®? Aku mau ingatkan kamu supaya kemasan kosongnya jangan dibuang ya! Kamu bisa kembalikan ke store terdekat melalui program Bring Back Our Bottles (BBOB). Melalui program ini, aku ingin semua customer dan publik dapat bertanggung jawab terhadap kemasan plastik yang sudah digunakan tidak menjadi sampah yang menumpuk di Tempat Pembuangan Akhir (TPA).
Selain kamu bisa berkontribusi untuk mengurangi sampah menumpuk di TPA, aku juga akan memberikan reward untukmu berupa point! Semakin banyak point yang dikumpulkan, semakin banyak juga keuntungan yang bisa kamu dapatkan, lho.
Kalau belum sempat ke store untuk kembalikan botol, kamu bisa gunakan kemasan kosong produk The Body Shop® jadi barang yang lebih bermanfaat! Aku punya beberapa upcyling ideas yang bisa kamu ikuti di rumah: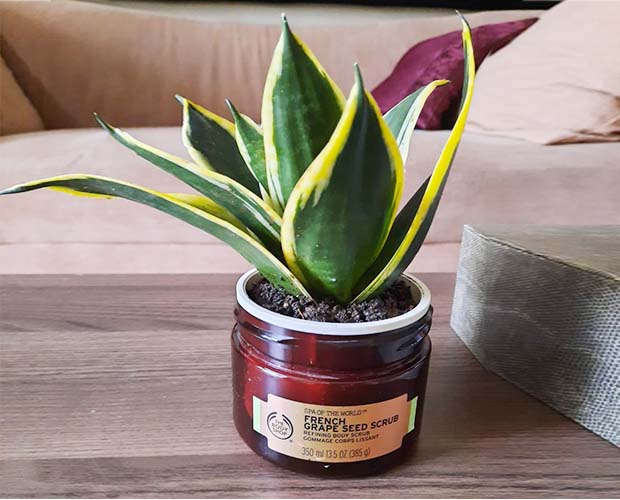 POT TANAMAN
Punya kemasan kosong jar ukuran besar di rumah? Yuk manfaatkan jadi pot tanaman seperti ini! Selain mengurangi sampah plastik, kamu jadi bisa nambah hobi bertanam plus rumah jadi segar dengan tanaman hias.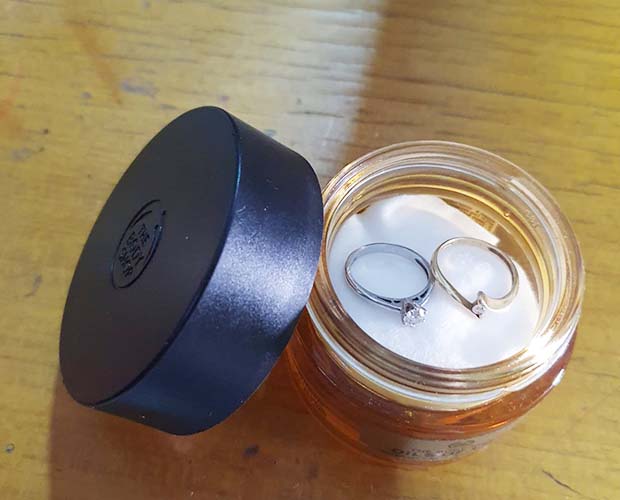 TEMPAT PERHIASAN
Kalau ada kemasan kosong jar kecil, kamu bisa jadikan tempat untuk simpan perhiasan kamu! Jadi nggak perlu takut hilang dan perhiasan kamu bisa tersimpan rapi deh.
GET TO KNOW ABOUT BRING BACK OUR BOTTLES
Bring Back Our Bottles (BBOB) adalah program The Body Shop® Indonesia yang mengajak konsumennya untuk mengembalikan kemasan kosong produk The Body Shop® ke toko-toko terdekat untuk didaur ulang dan hasil pengolahannya digunakan untuk pemberdayaan masyarakat. Melalui program BBOB, kami berusaha mengedukasi customer dan publik agar bertanggung jawab terhadap produk kemasan plastik yang telah digunakan sehari-hari sehingga mampu mengurangi timbulan sampah di lingkungan sekitar ataupun Tempat Pembuangan Akhir (TPA).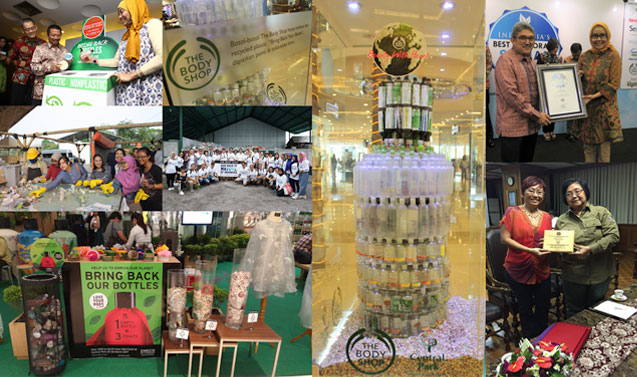 Pada tahun 2016, program BBOB menerima 2 penghargaan yaitu dari Kementerian Lingkungan Hidup dan Kehutanan Republik Indonesia atas inisiatif dalam pengurangan sampah (Waste Reduction Initiative) dan penghargaan dari Indonesia's Best Corporate Social Initiative untuk kategori Corporate Social Marketing.
AMAZING 10 YEARS JOURNEY WITH BBOB PROGRAM
Program BBOB pertama kali diluncurkan pada tahun 2008 dan menjadi pionir untuk program pengembalian kemasan kosong di Indonesia. Berikut kami rangkum beberapa momen penting seputar program BBOB selama 10 tahun terakhir.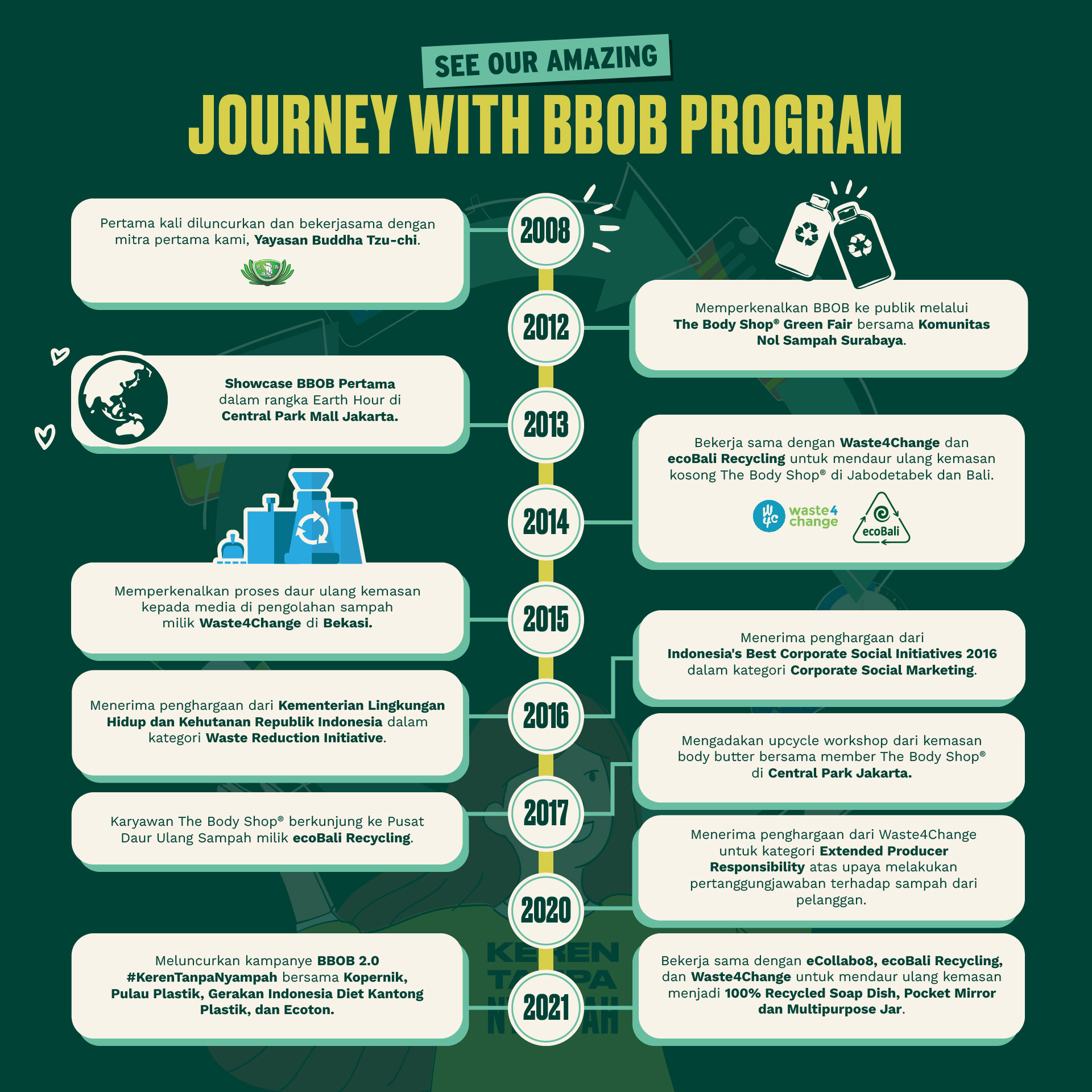 ARE YOU WONDERING HOW MANY EMPTY BOTTLES ACTUALY GET RETURNED EACH YEAR?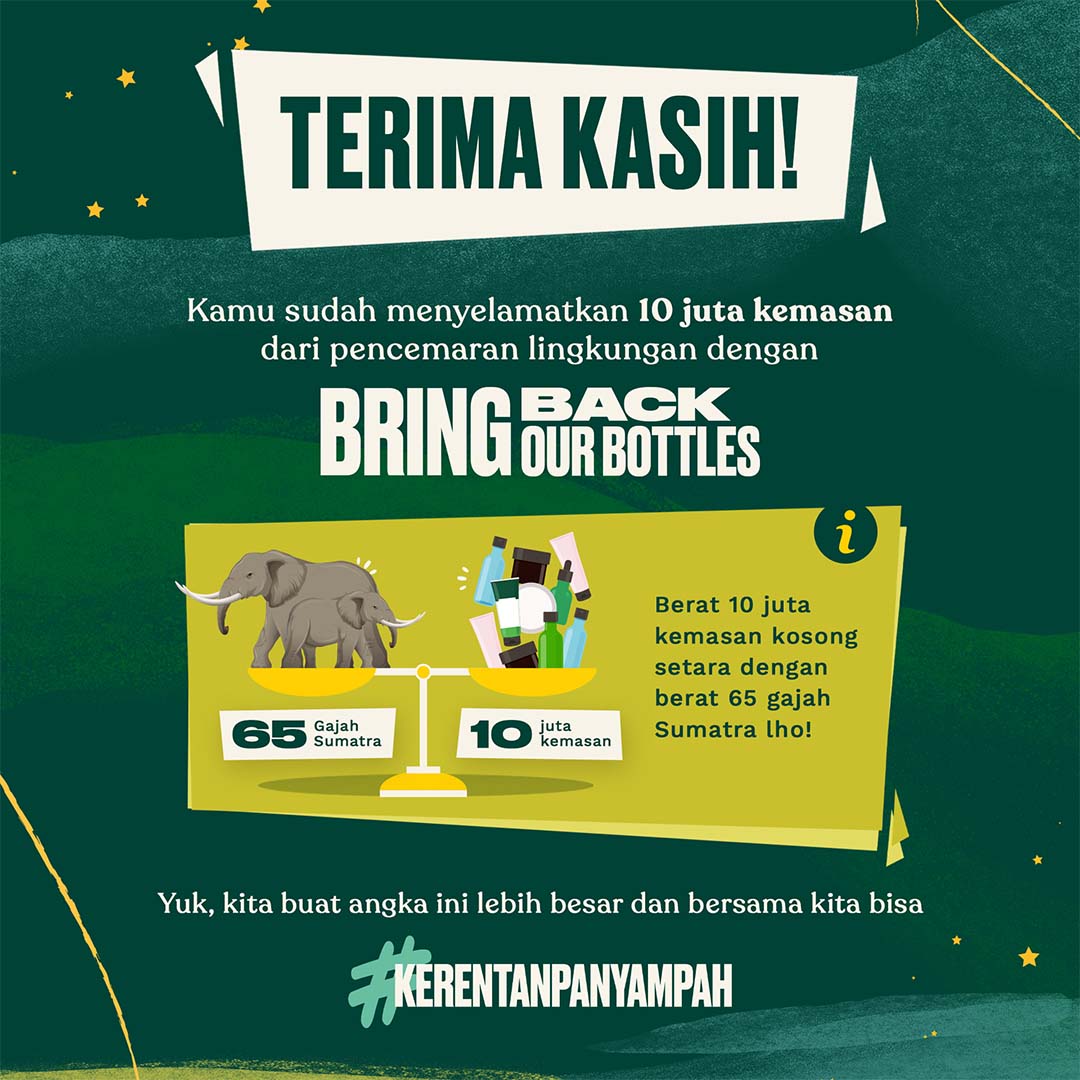 BRING BACK OUR BOTTLES
TERMS & CONDITIONS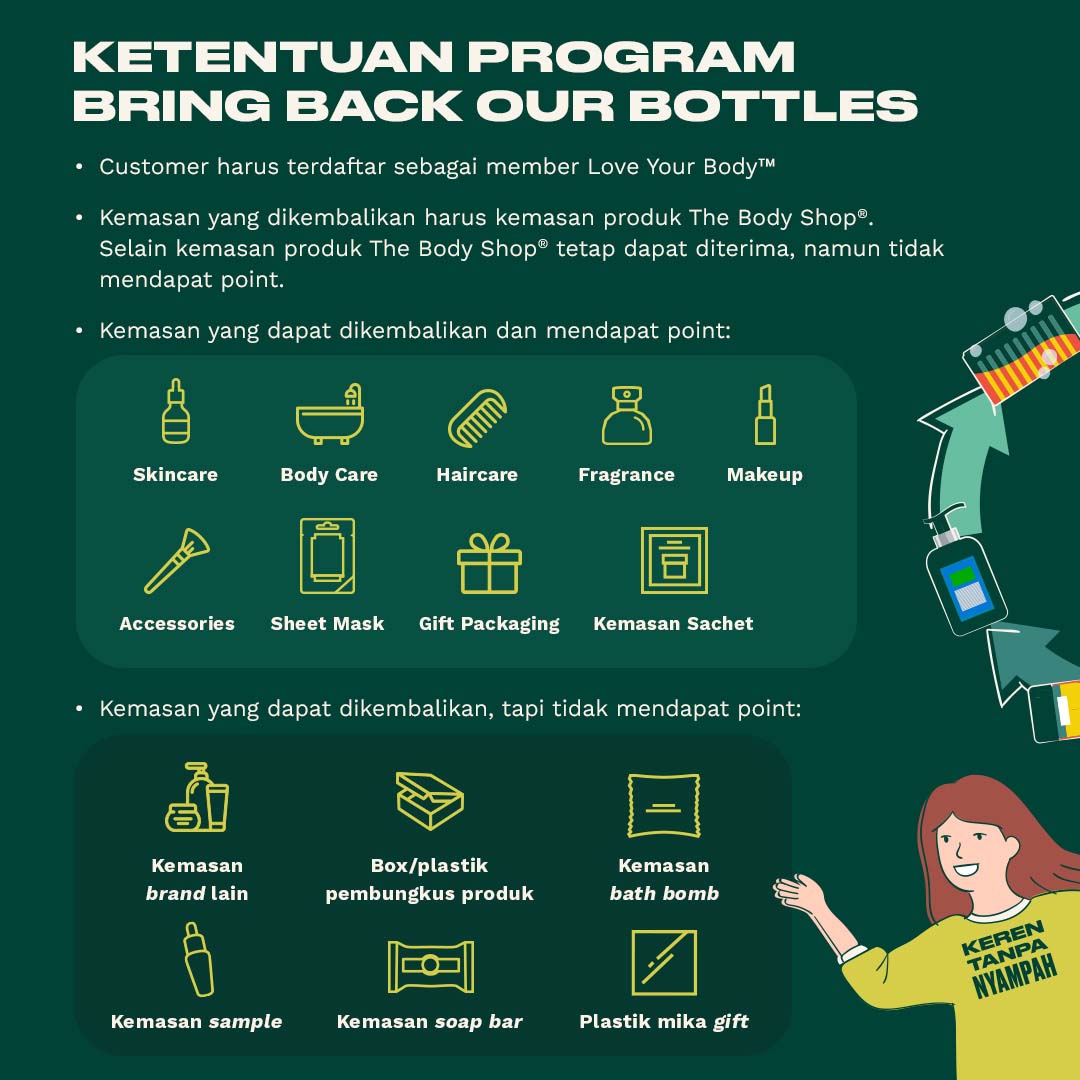 See What They Think About Our BBOB Program
Our Local Recycling Partners