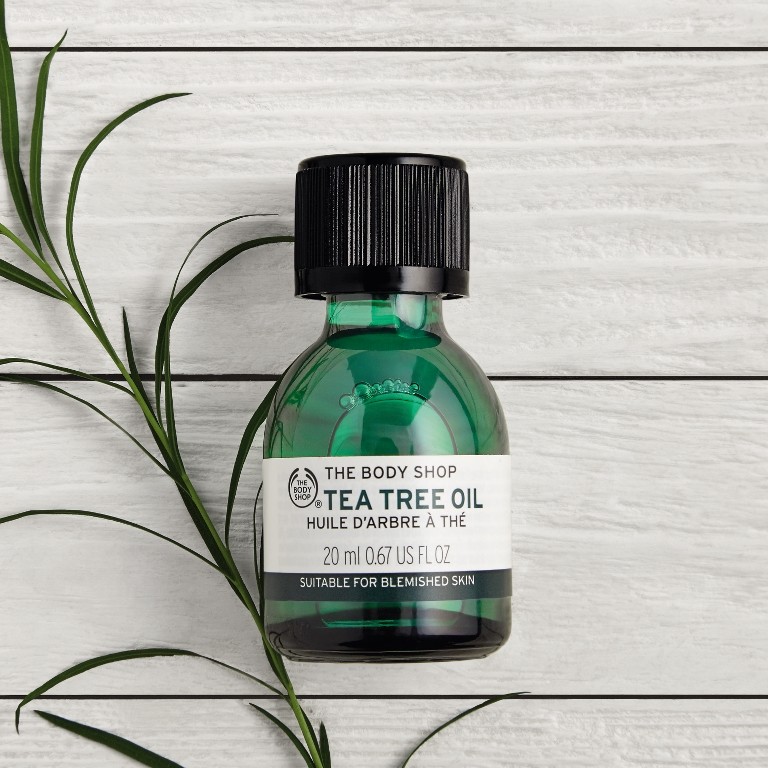 Pernah mendengar produk skin care bernama tea tree oil? Ya, setahun belakangan ini tea tree oil memang sedang happening karena khasiatnya yang begitu 'ajaib' untuk kulit berjerawat. Berbicara mengenai asal muasalnya, tea tree oil (minyak pohon teh) adalah minyak atsiri esensial yang dihasilkan dari tanaman Melaleuca Alternifolia. Tumbuhan seperti ini pun tergolong spesial karena hanya ada di benua Australia.
Memiliki sifat menenangkan dan desinfektan yang unik, cara kerja tea tree oil tidak seperti obat jerawat pada umumnya. Saat digunakan, tea tree oil akan 'menyapu bersih' minyak berlebih pada wajah berjerawat Anda. Dengan begitu, Anda tak perlu khawatir akan efek samping yang mungkin terjadi.
Semakin tertarik untuk menggunakan tea tree oil sebagai skin care wajib Anda? Simak terlebih dahulu cara menggunakan tea tree oil di bawah ini!
1. Oleskan Tea Tree Oil Langsung ke Jerawat
Cara menggunakan tea tree oil yang pertama yakni oleskan langsung ke jerawat Anda. Tuangkan beberapa tetes tea tree oil pada kapas pentul (cotton bud), bola kapas atau tisu. Dengan lembut, oleskan minyak tea tree ke setiap jerawat atau flek pada wajah. Biarkan selama beberapa jam, atau semalam. Kemerahan dan pembengkakan jerawat pun dipastikan mereda keesokan harinya. Dengan hanya mengoleskannya sedikit, tea tree oil bisa menembus kulit Anda untuk membuka kelenjar minyak yang tersumbat dan mendisinfeksi pori-pori penyebab jerawat. Selain menghilangkan jerawat, tea tree oil juga berkhasiat mengeringkan komedo dan noda pada hitam pada wajah yang kurang sedap dipandang.
2. Campur dengan Masker
Selain langsung mengoleskannya pada jerawat, cara menggunakan tea tree oil juga dapat Anda campurkan dengan masker wajah. Campurkan 3-4 tetes minyak tea tree oil dengan dua sendok makan bubuk lumpur hijau yang bisa Anda beli di sebagian besar toko makanan kesehatan. Buat campuran ini menjadi pasta dengan cara menambahkan air secukupnya dan aduk hingga merata. Oleskan masker secara merata pada seluruh wajah dan leher. Diamkan masker selama minimal 20 menit sampai lumpur mengering dan minyak tea tree oil bekerja bekerja. Bilas masker dengan air hangat dan keringkan wajah dengan lembut.
3. Buat Scrub Wajah
Untuk membuat scrub wajah yang efektif melawan jerawat, cobalah cara menggunakan tea tree oil yang satu ini! Campurkan tea tree oil dengan beberapa bahan alami lain dari lemari dapur Anda seperti minyak zaitun dan madu. Dalam mangkuk kecil, campurkan 1/2 cup gula, 1/4 cup minyak zaitun, 1 sendok makan madu dan sekitar 10 tetes tea tree oil. Pijatkan campuran ini dengan lembut pada wajah yang sedikit basah, dengan gerakan melingkar selama 2-5 menit. Cuci dengan air hangat dan tepuk wajah Anda hingga kering.
4. Jadikan Pelembab Alami
Bagi mereka yang memiliki kulit kering, pijat kulit secara teratur dengan tea tree oil untuk membantu melembapkan kulit. Tea tree oil bisa membuat kulit terasa lebih lembut dan kenyal. Untuk hasil yang maksimal lakukan cara menggunakan tea tree oil setiap pagi dan malam hari sebagai pengganti pelembab yang lebih alami.
Satu catatan lagi selain mengetahui cara menggunakan The Body Shop tea tree oil, pastikan Anda hanya menggunakan tea tree oil yang 100% murni, bukan produk yang mengandung minyak tea tree. Nah, Anda bisa mendapatkan tea tree oil yang 100% ini hanya di The Body Shop!