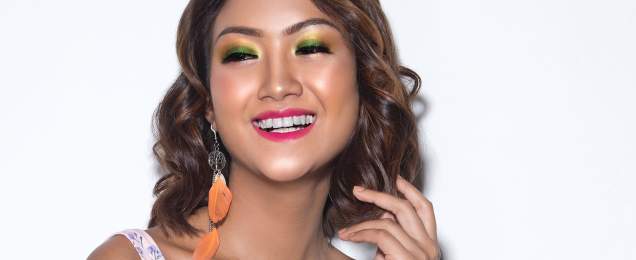 Memasuki bulan April, Masyarakat Indonesia selalu merayakan hari Kartini yang diperingati setiap tanggal 21 April. Pada hari spesial ini, banyak acara yang biasa diadakan di berbagai tempat untuk memperingati hari lahir dari pahlawan nasional Raden Ajeng Kartini, salah satunya adalah di lingkungan kerja. untuk tampil sempurna di momen ini, Anda perlu make-up yang tidak biasa. Salah satunya adalah dengan menggunakan foundation.
Foundation atau alas bedak menjadi komponen penting yang harus Anda gunakan bila ingin menampilkan riasan sempurna. Alas bedak bertujuan untuk meratakan warna kulit dan menutupi setiap kemerahan atau perubahan warna kulit Anda. Berbagai brand kosmetik pun sekarang menyediakan foundation dengan keunggulan masing-masing. Meski demikian, dalam memilih foundation pun tidak boleh sembarangan untuk menghindari foundation yang tak sesuai dengan warna kulit, serta tak mampu menutupi kekurangan wajah Anda. Untuk mempermudah Anda memilih foundation yang bagus simak ulasan cara memilih foundation yang bagus berikut ini.
Pilih Foundation dari Brand Terpercaya
Untuk memilih foundation yang bagus, belilah yang berasal dari brand make-up terpercaya. Hal ini dikarenakan foundation yang diproduksi dari brand terpercaya mampu memberikan hasil yang bagus ketika digunakan sebagai alas bedak di wajah Anda serta tidak menyebabkan iritasi kulit. Jika Anda kurang mengetahui brand make-up untuk foundation yang dipilih, sebaiknya bertanya kepada teman atau mencari tahunya di internet dengan melihat review dari orang lain.
Ketahui Warna Dasar Kulit
Ada banyak perempuan yang masih sulit memahami warna dasar kulit sehingga sering memilih warna foundation yang tidak tepat. Maka dari itu, dalam menentukan foundation yang bagus Anda harus mengetahui warna undertone (lapisan bawah kulit) Anda. Ada tiga jenis warna lapisan bawah kulit yaitu warm (kuning), cool (pink), dan netral. Cara menentukannya Anda bisa melihat warna pembuluh darah di pergelangan tanganmu.
Bila pada bagian tersebut terlihat berwarna hijau, Anda memiliki jenis undertone warm. Sementara bila berwarna kebiruan atau ungu itu berarti Anda memilki warna undertone cool. Jika Anda memilki kedua warna tersebut, maka Anda memiliki undertone netral.
Pilih Sesuai Jenis Kulit Wajah
Cara memilih foundation yang bagus selanjutnya, yakni menyesuaikan dengan jenis kulit wajah Anda. Jadi, sebelum memilih foundation, kenali dahulu apa jenis kulit wajah Anda. Apakah termasuk jenis kulit wajah kering, kulit wajah berminyak, atau kulit wajah normal. Hal ini penting untuk diketahui karena tidak semua foundation cocok untuk jenis kulit wajah Anda.
Pilih Tekstur Foundation
Ada banyak ragam tekstur dari foundation yang ada di pasaran, yakni padat, cair, gel, cream, hingga powder. Tekstur berbeda maka fungsinya pun berbeda juga.
Foundation cair: Cocok untuk pemilik kulit kering karena memberi efek melembapkan. Selain itu, foundation cair juga cocok untuk kulit normal dan normal cenderung kering ataupun berminyak. Hal ini dikarenakan formulasinya sangat ringan daripada foundation tekstur lainnya.
Foundation cream: Memiliki tekstur yang lebih creamy dan kental. Namun ada juga yang teksturnya benar-benar seperti krim. Foundation cream sangat baik dalam menutupi flek hitam dan cocok untuk segala jenis kulit, namun lebih sering digunakan oleh orang yang telah mengalami tanda-tanda penuaan.
Foundation gel: Cocok untuk kulit kering dan normal yang cenderung kering, karena teksturnya yang mirip dengan foundation cair. Bagi Anda yang sedang mengalami masalah jerawat, bisa menggunakan foundation ini karena teksturnya yang cenderung ringan dan tidak menyumbat pori-pori.
Foundation padat: Cocok digunakan untuk kulit berminyak karena memberikan hasil akhir yang matte dan menempel sempurna di kulit yang lembap.
Foundation powder: Sekilas mirip dengan bedak tabur, tetapi kemampuan meng-cover-nya lebih baik daripada bedak. Tekstur foundation yang satu ini cocok untuk kulit berminyak atau untuk mereka yang ingin tampak lebih natural saat menggunakan foundation.
Coba Foundation di Tempat Terang
Hindari mencoba foundation di tempat yang kurang pencahayaannya. Hal ini dikarenakan warna kulit bisa terlihat lebih gelap atau malah lebih terang. Yang termasuk dalam pencahayaan yang buruk, yaitu pencahayaan lampu neon (cahaya putih yang kuat di kamar mandi) serta cahaya kuning redup (tidak cukup cahaya). Lampu neon membuat Anda terlihat pucat, sementara pencahayaan kuning bisa membuat Anda terlihat kusam. Sebaiknya, mencoba foundation dilakukan di cahaya terang yang natural seperti sinar matahari alami.
Coba Foundation di Area Rahang dan Leher
Cara untuk memilih foundation yang bagus lainnya dengan mencobanya langsung pada area rahang dan juga leher. Ini lebih baik dibanding dengan mencobanya pada kulit bagian tubuh yang lain. Oleskan foundation pada kulit di bagian rahang dan leher lalu ratakan. Kemudian mundur sedikit dari depan kaca rias dan lihatlah apakah warna kulit wajah sudah rata dan menyatu dengan foundation yang Anda pakai. Bila terlihat warna yang tidak rata, berarti warna foundation yang dipilih tidak tepat untuk kulit wajah Anda. Sedangkan bila warna foundation yang Anda pilih menyerap dan menyatu dengan warna kulit wajah, berarti itulah foundation yang cocok untuk wajah Anda.
Selain 6 cara memilih foundation yang bagus di atas, cara yang juga tak boleh dilupakan, yakni pilihlah foundation yang terbuat dari bahan alami seperti The Body Shop. Produk kecantikan dari Inggris ini menyediakan ragam varian foundation yang bisa Anda pilih sesuai kondisi kulit wajah. Salah satu foundation yang bagus dari The Body Shop adalah Fresh Nude Foundation yang mengandung aloe vera dan memiliki kandungan SPF 15, menjadikan kulit terasa nyaman dan segar seharian beraktifitas. Foundation ini cukup ringan namun mampu menjaga kelembapan seharian dan bisa digunakan untuk kulit sensitif.