Muka merah biasanya terjadi ketika seseorang merasa malu, marah, bahkan stres. Keadaan ini tentu tergolong wajar karena aktivitas sistem saraf simpatis yang berfungsi untuk mempercepat denyut jantung, menyempitkan pembuluh darah, dan meningkatkan tekanan darah bekerja keras.
Namun, saat muka seseorang memerah dalam kondisi yang terlalu lama, apalagi disertai adanya bintik atau gatal, bisa jadi hal tersebut merupakan gejala dari sebuah kondisi medis tertentu. Misalnya, Anda mengidap penyakit atau alergi mengonsumsi obat-obatan tertentu.
Penyebab lain yang lebih umum adalah jerawat, yang umumnya disertai dengan kemunculan bintik-bintik merah. Atau, bisa juga kulit Anda kemerahan karena kepanasan.
Cara Mengatasi Wajah Merah
Bingung mengatasi wajah yang memerah terlalu lama? Apapun penyebabnya, berikut ini ada beberapa cara menghilangkan kemerahan di wajah yang bisa Anda lakukan. Yuk, dicoba bersama!
Mengompres dengan Es
Langkah pertama yang paling praktis untuk dilakukan adalah mengompres wajah dengan es. Pasalnya, suhu dingin bisa membantu mengontraksi pembuluh darah yang terletak di bawah kulit sehingga kemerahan bisa berkurang. Es batu juga mampu mengurangi rasa gatal dan peradangan.
Untuk memulainya, Anda hanya butuh es batu yang telah dibungkus dengan kain bersih atau handuk kecil. Kompres wajah secara perlahan selama satu menit. Hindari kontak langsung kulit dengan es karena bisa berujung pada peradangan dan rusaknya sel-sel kulit.
Mengolesi Lidah Buaya
Adapun cara lain menghilangkan wajah merah yaitu memanfaatkan lidah buaya. Penggunaan lidah buaya sebagai obat tergolong ampuh sebab di dalamnya terdapat manfaat antiinflamasi yang bisa mengurangi iritasi, peradangan, serta kulit kering yang memicu wajah memerah.
Cara mengaplikasikannya juga mudah karena Anda hanya perlu mengoleskan The Body Shop® Aloe Multi-Use Soothing Gel ke kulit yang bermasalah. Tunggu hingga kering sebelum membilasnya dengan air dingin. Lakukan hal ini secara rutin dan berkala hingga kulit wajah kembali normal.
Memakai Masker Mentimun
Siapa sangka bahwa mentimun dapat dimanfaatkan sebagai salah satu cara menghilangkan merah di wajah? Hal ini karena mentimun kaya akan kandungan vitamin dan mineral yang dapat menjaga kulit tetap sehat dan bercahaya.
Prosesnya pun terbilang mudah karena Anda hanya perlu mengiris mentimun dan mendinginkannya di dalam kulkas sebelum menempelkannya di permukaan wajah. Diamkan hingga irirsan-irisan mentimun itu tak lagi terasa dingin. Ulangi cara ini setiap hari dan rasakan manfaatnya.
Selain menggunakan cara-cara praktis tersebut, pastikan kuit wajah selalu dalam keadaan bersih. Biasakan untuk mencuci muka dengan facial wash yang cocok dengan jenis kulit supaya Anda terhindari dari kulit kemerahan ataupun masalah lainnya.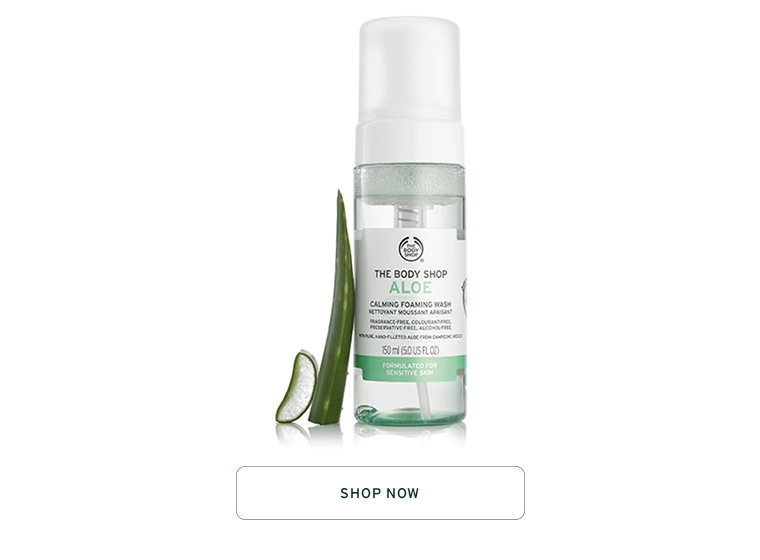 Beberapa facial wash dari The Body Shop® yang bisa Anda coba antara lain Aloe Calming Foaming Wash, Seaweed Deep Cleansing Gel Wash, Drops of Light Brightening Cleansing, Chinese Ginseng & Rice Clarifying Powder, Drops of Youth™ Gentle Foaming Wash, dan Himalayan Charcoal Purifying Facial Soap. Untuk mendapatkannya, klik situs resmi atau berbelanjalah langsung di gerai-gerai The Body Shop® di berbagai pusat perbelanjaan.
Selain menggunakan facial wash yang tepat, mulailah gaya hidup sehat dengan cara selalu mengonsumsi makanan sehat dan menghindari paparan sinar matahari yang terlalu lama. Semoga semua cara menghilangkan kemerahan di wajah yang sudah tertera di atas bisa membantu Anda, ya!