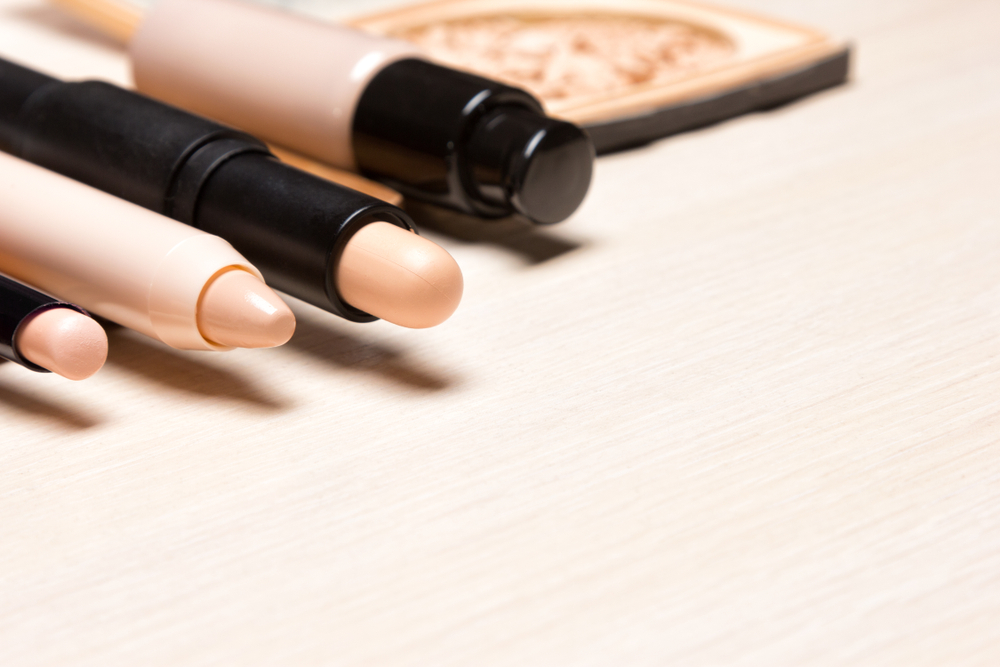 Salah satu masalah yang sering dialami oleh perempuan adalah munculnya bekas jerawat, kantung mata, dan kemerahan atau warna kulit yang tidak merata pada beberapa bagian wajah. Kondisi tersebut cukup mengganggu penampilan bukan? Biasanya, untuk menyiasati hal tersebut, penggunaan make-up bisa menjadi solusinya.
Concealer menjadi salah satu produk makeup yang ampuh untuk menutupi kekurangan wajah. Di pasaran, ada berbagai macam concealer yang bisa dicoba seperti liquid, stick, dan cream. Anda bisa memilih concealer sesuai dengan kebutuhan. Perlu diketahui, liquid concealer sebaiknya digunakan untuk menutupi kantung mata hitam karena cenderung lebih lembap dan tidak mudah menggumpal.
Sementara, bentuk concealer stick sebaiknya digunakan untuk noda hitam bekas jerawat. Concealer cream berguna untuk menyamarkan noda di wajah. Bila Anda menggunakan concealer dengan teknik penggunaan yang tepat, maka Anda bisa tampil dengan wajah yang mulus dan halus . Berikut ini tips memakai concealer untuk riasan sempurna yang bisa Anda coba.
Menggunakan Jari Manis
Tips memakai concealer yang pertama adalah menggunakan jari manis. Bila Anda sedang meratakan concealer di bagian bawah mata, sebaiknya gunakan jari manis Anda. Jari manis cenderung membantu penggunaan concealer menjadi lebih rata, lebih ringan, dan mudah dikontrol gerakannya sehingga tidak akan terlalu keras menarik kulit dan membuatnya cepat keriput.
Teknik yang Tepat
Bila ingin menggunakan concealer di bawah mata, tips memakai concealer yang tepat adalah dengan menggambar dalam bentuk segitiga mendekati pipi. Dengan menggunakan teknik ini membantu menutupi lingkaran hitam mata dan memberi efek highlight pada wajah. Sementara bila menggunakan kuas, sebaiknya gunakan kuas concealer atau foundation.
Memakai Foundation Dulu
Bila saat melakukan makeup Anda menggunakan foundation, maka penggunaan concealer dilakukan setelah menggunakan foundation. Dengan cara itu, concealer bisa menutupi kekurangan wajah dengan maksimal. Bila Anda menggunakan concealer dulu, maka bisa membuat rataan concealer menjadi berantakan bila ditimpa dengan foundation. Namun, bila Anda menggunakan foundation jenis tabur, maka gunakan concealer terlebih dulu.
Kombinasi Dua Warna
Tips memakai concealer selanjutnya adalah menggunakan teknik menggunakan dua warna concealer. Hanya saja, Anda perlu menyesuaikan dengan kebutuhan wajah Anda. Misalnya, jika Anda memiliki masalah kulit kemerahan di daerah hidung atau akibat jerawat, sebaiknya gunakan dua warna concealer, yakni hijau dan warna yang mendekati kulit Anda. Warna hijau bisa menetralisir kulit yang merah dan concealer warna kulit bisa membuat tampilan wajah Anda menjadi lebih natural.
Khusus untuk lingkaran hitam mata, Anda bisa pakai concealer warna salmon untuk menutupi kehitaman di area tersebut. Cerahkan kembali bagian itu dengan concealer berwarna satu kali lebih terang dibanding warna kulit. Dengan begitu, mata panda tidak akan lagi mengganggu penampilan Anda.
Menggunakan Bedak
Tips memakai concealer yang perlu diperhatikan juga adalah menggunakan bedak setelah selesai menggunakan foundation dan concealer. Kegunaan dari pemakaian bedak adalah untuk menjaga aplikasi concealer menjadi lebih awet dan tidak mudah luntur, serta tampilan wajah akan terlihat halus dan natural. Anda dapat menggunakan sapuan bedak di area wajah yang Anda pakaikan concealer agar riasan terlihat tahan lama.
Highlight dan Contour
Tips memakai concealer agar tampilan makeup Anda lebih sempurna selanjutnya adalah menjadikan concealer sebagai highlight dan contour wajah. Highlight dan contour sendiri berguna berfungsi untuk memberi dimensi pada wajah sehingga wajah tidak terlalu terlihat flat. Bila ingin dijadikan highlight, Anda bisa memilih concealer dengan warna dua kali lebih terang dari warna kulit asli Anda. Sebaiknya, concealer digunakan pada dahi, tulang hidung, dan dagu untuk mendapatkan efek cerah. Penggunaan concealer yang lebih gelap dari warna asli kulit bisa dimanfaatkan sebagai contour guna memberikan efek tulang pipi lebih tinggi, hidung lebih mancung, dan wajah lebih tirus.
Itulah 6 tips memakai concealer yang bisa Anda gunakan agar tampilan wajah Anda terlihat lebih flawless. Yang perlu diperhatikan juga gunakanlah produk concealer yang berkualitas bagus dan sesuai dengan jenis kulit Anda agar hasil makeup yang dihasilkan bisa maksimal. Sebagai rekomendasi, Anda bisa menggunakan concealer dari The Body Shop, salah satunya yakni All-In-One Concealer yang bisa menutupi warna kulit yang tidak merata dan dapat diaplikasikan baik tipis ataupun tebal. Kandungan baobab oil bisa membantu melembapkan dan melindungi kulit. Anda bisa mendapatkan concealer dari The Body Shop, baik yang ada di outlet resminya maupun situs resmi The Body Shop di www.thebodyshop.co.id.