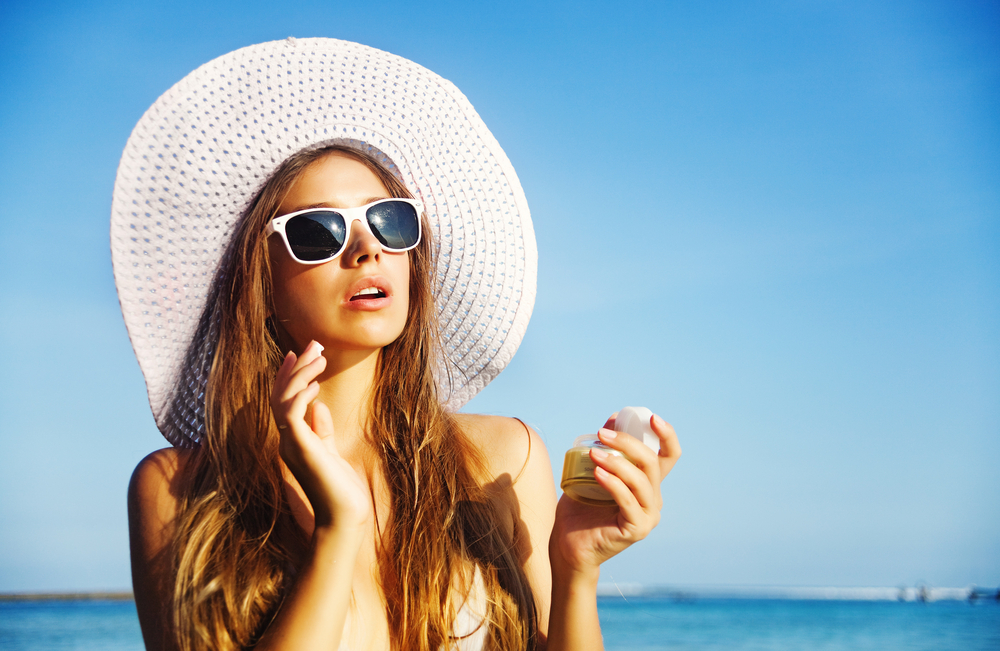 Sinar ultra violet atau yang sering disebut sinar UV merupakan sinar matahari yang mencapai bumi. Sinar UV bisa memberikan keuntungan untuk memproduksi vitamin D dalam kulit. Vitamin ini dapat menjaga kekebalan dan membantu pertumbuhan tulang. Karena itu disarankan berjemur 30 menit di pagi hari.
Meskipun sinar UV memiliki manfaat bagi tubuh, namun bila terlalu banyak terpapar sinar matahari dapat bisa berbahaya bagi kulit. Perlu diketahui, sinar UV sendiri terbagi ke dalam beberapa jenis. Tapi yang paling dikenal, yakni Sinar UV A dan UV B. Sinar UV A memiliki panjang gelombang 100 nanometer (nm) sampai 290 nm. UV B panjang gelombangnya 290 nm sampai 320 nm. Bila makin panjang gelombang sinar UV, memiliki risiko kerusakan yang makin besar pada kulit.
Terlalu banyak terkena sinar UV A bisa memicu masalah-masalah penuaan. Sementara bila sinar UV B bisa menyebabkan sunburn. Pastinya, dampak bahaya sinar UV tidak ingin Anda alami, bukan?
Sebenarnya, kulit yang sedang menjalani perawatan kulit maupun yang tidak, tidak boleh terlalu sering terkena sinar matahari. Hal ini disebabkan radiasi sinar UV berasal dari matahari memberikan efek negatif bagi kulit. Apa saja bahaya yang bisa ditimbulkan oleh sinar UV? Ini jawabannya.
Kulit Terlihat Lebih Tua Dari Umur Asli Anda
Bahaya sinar UV bila terpapar secara terus-menerus dapat mempengaruhi tampilan wajah Anda, yakni membuat wajah terlihat lebih tua dari umur aslinya. Hal ini disebabkan karena sinar UV dapat merusak serat kolagen dan elastin pada kulit, sehingga menyebabkan kulit tampak keriput, kendur, dan membuat pori-pori membesar.
Sunburn
Sunburn menjadi salah satu bahaya sinar UV yang bisa Anda rasakan bila terlalu banyak terpapar. Sunburn adalah keadaan kulit yang berwarna merah dan terasa perih seperti terbakar. Hal ini disebabkan karena terlalu lama berada di bawah terik matahari. Tanda-tanda dari sunburn ditandai dengan kulit menjadi kering, kemerahan, terasa nyeri, perih, dan sangat sensitif.
Kulit Menjadi Gelap
Bila terlalu sering terpapar sinar UV juga bisa membuat sel-sel kulit melepaskan pigmennya. Sebenarnya pelepasan pigmen merupakan respons alami kulit, dimana kulit berusaha membangun sistem pertahanan baru, dengan cara membentuk lapisan perlindungan tambahan. Tetapi jika hal ini terus-menerus terjadi, bisa membuat warna kulit menjadi lebih gelap.
Memicu Kehilangan Elastisitas
Bahaya sinar UV juga bisa menyebabkan elastisitas kulit berkurang. Hal ini dikarenakan paparan sinar UV – A bisa menembus bagian dermis kulit dan merusak sel – sel yang berada pada dermis, sehingga elastisitas kulit menjadi berkurang.
Kanker Kulit
Dampak yang paling buruk dari bahaya sinar UV bagi kulit, yakni bisa merusak materi genetik pada sel-sel kulit. Lama kelamaan bisa mengganggu pertumbuhan sel kulit sehingga menjadi tidak terkontrol. Bila hal ini terjadi, bisa memicu penyakit kanker kulit.
Salah satu jenis perawatan wajah yang membantu Anda dari paparan sinar UV adalah dengan menggunakan sun protection sebelum beraktivitas di luar ruangan. Maka dari itu, Anda harus lebih cermat dalam memilih sun protection.
Anda bisa memilih sun protection dari The Body Shop, yakni Skin Defence SPF 50 yang merupakan produk bertekstur milk-to-water dengan proteksi ganda UV A & UV B (broad spectrum) yaitu SPA 50 PA++++. Di dalamnya terdapat kandungan red algae extract dan vitamin C sebagai antioksidan dan anti-kusam. Dengan penggunaan rutin, tidak hanya melindungi kulit dari paparan sinar matahari dan agresor eksternal namun juga membuat kulit tampak cerah bercahaya.
Kandungan SPF 50-nya bisa membantu melindungi kulit dari sinar UVB yang memicu kemerahan dan kerusakan di permukaan kulit. Sementara PA++++ membantu melindungi kulit dari sinar UV A yang bisa mempercepat proses penuaan kulit. Bagi Anda yang ingin memiliki Skin Defence SPF 50, Anda bisa membelinya di gerai resmi The Body Shop di berbagai pusat perbelanjaan maupun situs resminya. Kunjungi juga halaman Latest Stories The Body Shop untuk tips-tips lainnya seputar sun protection.