Saat ini, penggunaan plastik sudah menjadi salah satu isu lingkungan yang memiliki dampak berbahaya. Karena itu, kantor The Body Shop® di Indonesia sebagai green office menerapkan kampanye No Single-use Plastic, yaitu larangan menggunakan kantong plastik, sedotan plastik, dan botol plastik. Larangan ini berlaku untuk seluruh karyawan The Body Shop® dan siapapun yang berkunjung ke kantor yang berlokasi di Tangerang Selatan ini.
Selain itu, The Body Shop® juga memiliki banyak komitmen dalam hal menjaga alam dan juga lingkungan, salah satunya adalah dengan menolak penggunaan plastik sekali pakai. Hal ini dilakukan dengan menjalankan berbagai kampanye bebas plastik, seperti Bring Back Our Bottle, #Pay4Plastic, #CeritaTanpaPlastik, dan #PlastikGakAsik. Kemudian ada juga Envirochallenge hasil kerja sama dengan Gerakan Diet Kantong Plastik.
Kampanye No Single-use Plastic juga bertujuan untuk memperluas kesadaran masyarakat mengenai pengaruh buruk plastik dan juga agar konsumsi plastik sekali pakai atau styrofoam dapat dikurangi. Kampanye ini kemudian semakin didukung oleh peraturan yang diterbitkan oleh Gubernur DKI Jakarta, Bapak Anies Baswedan, tentang larangan kantong plastik sekali pakai.
Regulasi tersebut tertuang dalam Pergub Nomor 142 tahun 2019 tentang Kewajiban Penggunaan Kantong Belanja Ramah Lingkungan di supermarket maupun pasar tradisional.
Sejak tahun 2013, The Body Shop® bersama para pelanggan selalu mendukung dan menjadi bagian dari Gerakan Indonesia Diet Kantong Plastik (GIDKP) dalam berbagai kampanye dan pengumpulan petisi untuk #Pay4Plastic, yang hasilnya adalah pemberlakukan uji coba kantong plastik berbayar di tahun 2016. Akhirnya, upaya tersebut berujung pada pengeluaran regulasi dari pemerintah tentang larangan kantong plastik tersebut. Berikut adalah perjalanan The Body Shop® sejak tahun 2013 dalam mengkampanyekan tolak penggunaan plastik sekali pakai :
2013
#Pay4Plastic
Kampanye ini secara resmi diluncurkan bersamaan dengan kegiatan "Rampok Plastik" di Car Free Day dan area publik yang lain.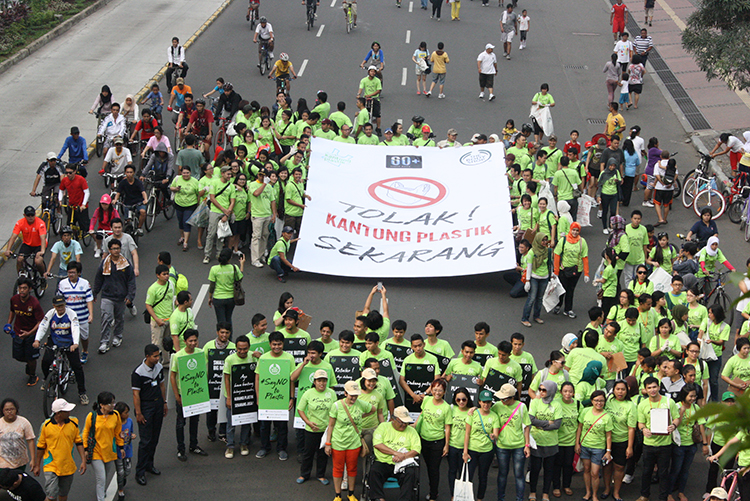 2015
Membangun Kesadaran Publik
The Body Shop® membuat seni instalasi "Save Our Sea From Plastic Waste" di Earth Hour.
Donasi di Store The Body Shop®
Penggalangan dana melalui kasir The Body Shop yang berhasil mengumpulkan Rp57.836.428 untuk mendukung Gerakan Diet Kantong Plastik.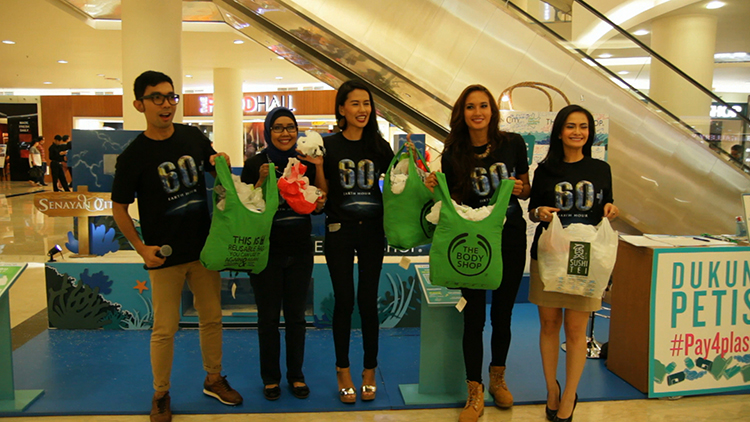 2016
Mengumpulkan 60.000 Tanda tangan untuk Petisi
Implementasi dari kebijakan kantong plastik berbayar di 27 kota di Indonesia.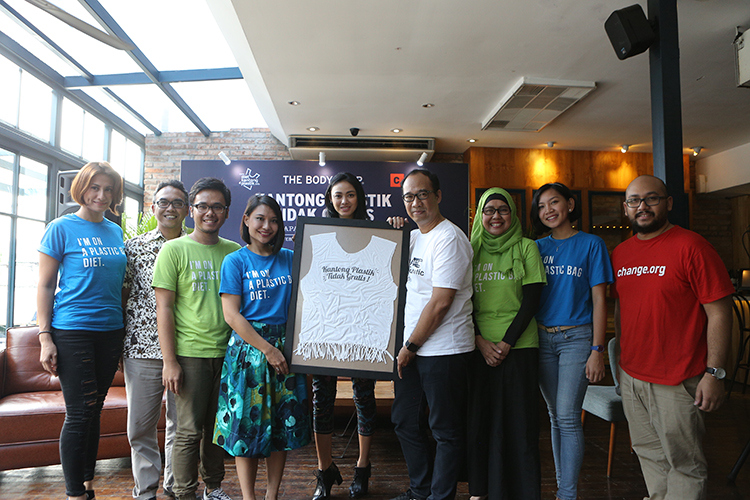 2018
Diselenggarakannya diskusi publik yang berjudul "Jakarta Breaks Free from Plastic Bags".
Say No to Plastic Straw Campaign
Mengumpulkan 2.900 sedotan plastik bekas dalam waktu satu jam di Car Free Day Jakarta.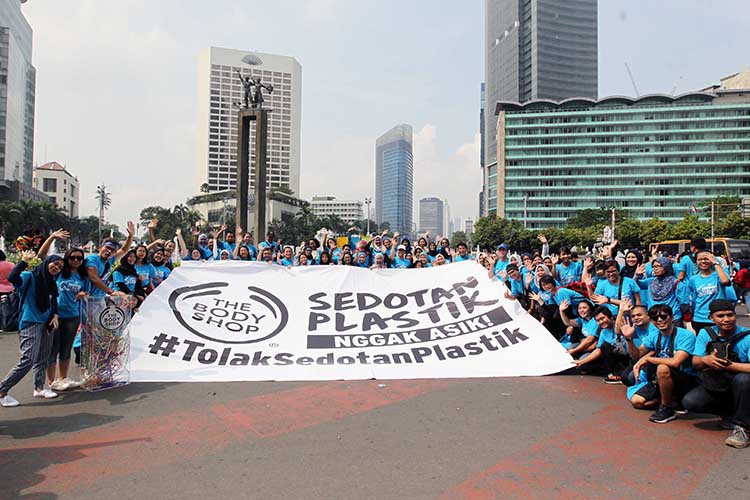 2019
Kebijakan Kantong Plastik Berbayar
APRINDO (Asosiasi Pengusaha Ritel Indonesia) secara resmi mengumumkan komitmen untuk kantong plastik berbayar bagi seluruh anggotanya.
Penggalangan dana melalui kasir The Body Shop Indonesia yang berhasil mengumpulkan Rp477.632.706 sebagai bentuk dukungan terhadap program Envirochallenge.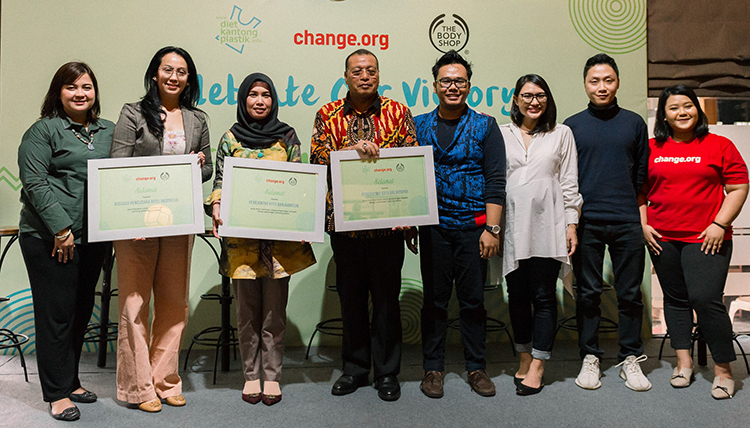 Mulai saat ini, yuk kita buat bumi lebih sehat dengan mengurangi penggunaan plastik sekali pakai dan jangan lupa untuk membawa tas guna ulang saat berbelanja ya!