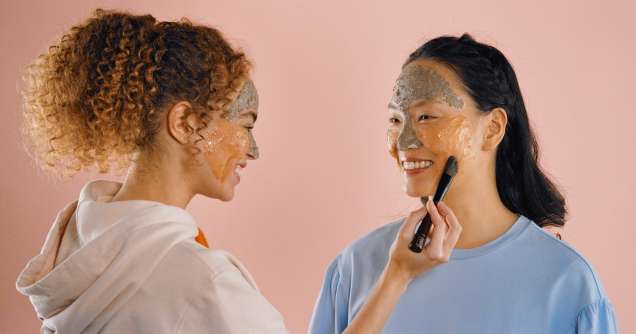 Salah satu produk perawatan wajah yang menjadi favorit kaum hawa adalah masker wajah. Hal ini dikarenakan masker wajah bermanfaat untuk menghaluskan dan membersihkan wajah. Bahkan saking baiknya masker wajah, ada orang yang menggunakannya setiap hari.
Baikkah menggunakan masker wajah setiap hari?
Tak bisa dipungkiri jika masker alami yang bagus untuk wajah memiliki banyak manfaat untuk mengatasi berbagai masalah kulit, contohnnya kulit kering, kulit kemerahan, dan juga jerawat yang sulit dihilangkan. Masker wajah juga bisa membantu menjaga kelembapan wajah, mengecilkan pori-pori, mengangkat sisa makeup yang menumpuk di wajah, kotoran, dan minyak.
Meskipun demikian, terlalu lama menggunakan masker wajah bisa memberikan efek yang kurang baik untuk kulit wajah, yakni menghilangkan kelembapan alami wajah. Dampak dari Anda sering menggunakan masker wajah setiap hari, yakni bisa menyerap minyak di wajah secara terus-menerus, termasuk menyerap minyak alami di kulit wajah.
Coba bayangkan jika kulit Anda termasuk jenis yang kering, lalu menggunakan masker wajah setiap hari, bukankah itu membuat kulit menjadi lebih kering dan menghilangkan kelembapan alami wajah. Ada persepsi yang salah terkait menggunakan masker wajah. Banyak orang yang menganggap bahwa khasiat masker akan lebih maksimal jika digunakan dalam waktu yang lama hingga berjam-jam atau semalaman. Sebenarnya cara ini tidak dianjurkan karena bisa membuat kulit menjadi kering karena terlalu lama terkena udara yang bercampur dengan masker.
Menggunakan masker wajah sebenarnya tergantung dari jenis kulit Anda sendiri. Contohnya, Anda yang memiliki kulit kombinasi yang pastilah mengalami area berminyak di area T-zone dan cenderung kering di bagian pipi. Untuk mengatasi masalah kulit kombinasi ini, gunakanlah masker tanah liat (clay mask). Namun, penggunaan masker tersebut tentu seharusnya tidak dipakai setiap hari, jadi sebaiknya ikuti aturan yang ada pada label produk.
Jadi, kapan waktu terbaik untuk pakai masker wajah?
Waktu terbaik untuk menggunakan masker wajah sebaiknya gunakan 1 sampai 2 kali seminggu selama 20 menit. Waktu ini berguna untuk memberikan kesempatan bagi kulit wajah untuk bernapas dan menjaga keseimbangan minyak untuk menghindari kulit kering. Yang perlu diingat, sebelum pakai masker, baca daftar kandungan pada label produk. Bila dalam produk masker wajah tersebut tertulis kandungan alkohol di dalamnya, sebaiknya ganti saja produk tersebut.
Beberapa masker wajah alami dari The Body Shop yang bisa menjadi pilihan
Sebagai rekomendasi untuk perawatan wajah Anda, sebaiknya gunakan masker alami yang bagus dan dijamin aman untuk kulit wajah, terutama kulit wajah yang kusam. Anda bisa menggunakan masker alami untuk wajah kusam dari The Body Shop.
British Rose Fresh Plumping Mask
Masker alami untuk wajah ini memiliki tekstur berupa gel yang menyegarkan dan mengandung kelopak bunga mawar asli, rose essence, rosehip oil, dan aloe vera. Diperuntukkan bagi pemilik wajah kusam dan kering yang memerlukan kelembapan agar tampak lebih segar dan terasa lebih kenyal. British Rose Fresh Plumping Mask membantu melembapkan kulit wajah serta membuatnya terasa sangat halus dan lembut.
Amazonian Acai Energising Radiance Mask
Masker dari bahan alami Amazonian Acai Energising Radiance Mask bisa membuat kulit wajah terlihat lebih fresh, cerah, dan terasa lebih halus. Masker ini terinspirasi oleh ritual suku Amazon yang memiliki kandungan acai berry, guarana, dan babassu oil yang membantu mencerahkan wajah dan membuat wajah Anda tampak segar dan bercahaya.
Himalayan Charcoal Purifying Glow Mask
Sementara, Himalayan Charcoal Purifying Glow Mask adalah clay mask yang memiliki kandungan bamboo charcoal, green tea leaves, dan tea tree oil yang berguna untuk membersihkan kulit wajah dari kotoran dan melepaskan racun agar tampak lebih segar dan lebih cerah.
Untuk melihat produk masker wajah alami lainnya, Anda bisa mengunjungi situs resmi The Body Shop di www.thebodyshop.co.id.