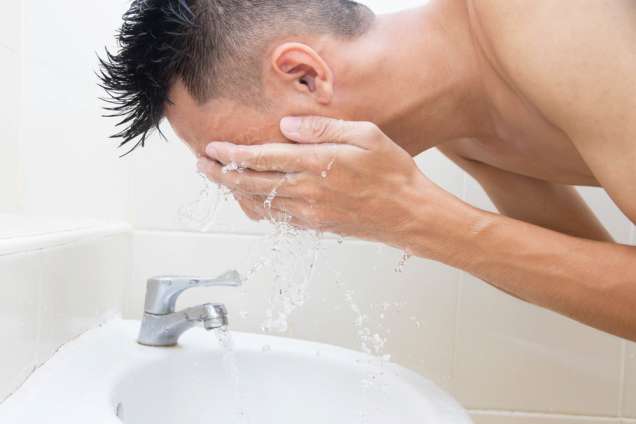 Pada dasarnya, bukan hanya perempuan yang perlu melakukan perawatan wajah, namun pria juga perlu melakukan hal serupa. Perlu dipahami bahwa merawat kulit sangat penting untuk semua kalangan, tidak terkecuali pria. Saat ini sudah banyak produk perawatan wajah pria yang tersedia di pasaran, untuk menjawab kebutuhan perawatan wajah pria.
Dalam urusan memilih produk perawatan wajah untuk pria, sebenarnya tidak jauh berbeda dengan perempuan. Para pria juga harus mengetahui jenis kulitnya agar tidak sembarangan memilih produk. Selain itu, perlu juga memperhatikan dan mengetahui kondisi kulit Anda apakah sedang berjerawat, iritasi, atau kondisi lainnya. Dalam keseharian, ada beberapa produk perawatan wajah untuk pria yang perlu digunakan sehari-hari agar membantu memiliki kulit wajah yang sehat. Berikut 5 produk perawatan wajah untuk pria yang perlu Anda gunakan.
Facial Wash
Produk perawatan wajah untuk pria yang pertama adalah facial wash. Pria juga perlu untuk mencuci mukanya setiap hari terutama setelah berolahraga. Sebaiknya, Gunakan facial wash 1-2 kali per hari. Hindari menggunakan sabun mandi biasa, karena pH sabun mandi terlalu basa sehingga mampu mengeringkan kulit wajah. Jadi, Anda harus menggunakan sabun muka yang cocok dengan jenis kulit masing-masing.
Toner
Toner juga menjadi produk perawatan wajah untuk pria yang perlu digunakan agar wajah bersih dan segar. Toner mampu membantu Anda menyeimbangkan pH wajah dan dapat merawat wajah yang cukup berminyak. Gunakan toner setelah menggunakan pembersih wajah.
Alat cukur dan Krim Cukur Jenggot
Sebaiknya, gunakan pisau cukur bermata tunggal untuk melindungi kulit dari iritasi dan meminimalisir potensi rambut yang tumbuh ke dalam, terutama bagi yang memiliki jenggot keriting. Cukurlah ke arah pertumbuhan rambut. Bila pisau cukur telah digunakan sebanyak dua kali, Anda perlu mengganti pisau cukur kali untuk menjaga kebersihan pisau cukur. Selain itu, gunakan krim cukur yang melembapkan kulit dan mencegah iritasi.
Pelembap Kulit
Pelembap menjadi produk perawatan wajah untuk pria yang tak boleh dilupakan karena berguna untuk menjaga kelembapan kulit. Pelembab bekerja untuk membantu mengurangi garis-garis halus dan membuat kulit terlihat lebih cerah. Agar hasil yang diperoleh bisa maksimal, sebaiknya oleskan pelembap ke wajah ketikan kulit masih lembap, seperti setelah mandi atau setelah cukur.
Sun Protection
Produk perawatan wajah untuk pria yang juga tak boleh dilupakan adalah penggunaan sun protection. Produk ini mampu mencegah kerusakan sel-sel kulit akibat sinar matahari yang bisa menimbulkan keriput, bintik hitam, bahkan kanker kulit. Untuk perawatan wajah pria yang optimal, gunakanlah sun protection sebelum pergi keluar dengan mengoleskannya di kulit wajah, telinga, dan juga leher. Selain itu, gunakan juga produk sun protection yang tahan air dan memiliki SPF minimal 30.
Scrub Wajah
Pria juga perlu menggunakan scrub atau produk eksfoliasi untuk membantu menghilangkan sel-sel mati di kulit. Produk perawatan wajah untuk pria ini sebaiknya dipakai sebanyak 2 kali dalam seminggu. Penggunaan scrub juga bisa mencegah jenggot atau bulu halus tumbuh ke dalam.
Itulah 6 produk perawatan wajah untuk pria yang perlu dimiliki dan digunakan dalam perawatan wajah pria sehari-hari. Dengan menggunakan produk-produk di atas secara rutin, tentu bisa membantu Anda mendapatkan wajah yang bersih dan menawan. Dalam memilih produk perawatan wajah untuk pria, Anda perlu memilih produk dari bahan-bahan alami. Anda bisa menggunakan produk dari The Body Shop.
Brand asal Inggris ini sudah meluncurkan produk daily routine khusus pria yang bisa Anda coba. Salah satu produknya, yakni Energising Deep Cleanser yang merupakan pembersih wajah khusus pria dengan kandungan guarana seed dan green coffee. Membantu membersihkan wajah dari kotoran dan membuat kulit terasa segar, setelah pemakaian kulit akan terasa kembali berenergi. Cocok untuk kulit yang tampak lelah dan kusam.
Selain itu, ada Energising Moisturiser yang merupakan pelembab wajah khusus pria bertekstur gel-lotion yang terasa ringan dan tidak menyebabkan lengket untuk membantu melembapkan kulit. Untuk melihat produk perawatan wajah untuk pria lainnya yang ada di The Body Shop, Anda bisa mengunjungi situs resmi The Body Shop.