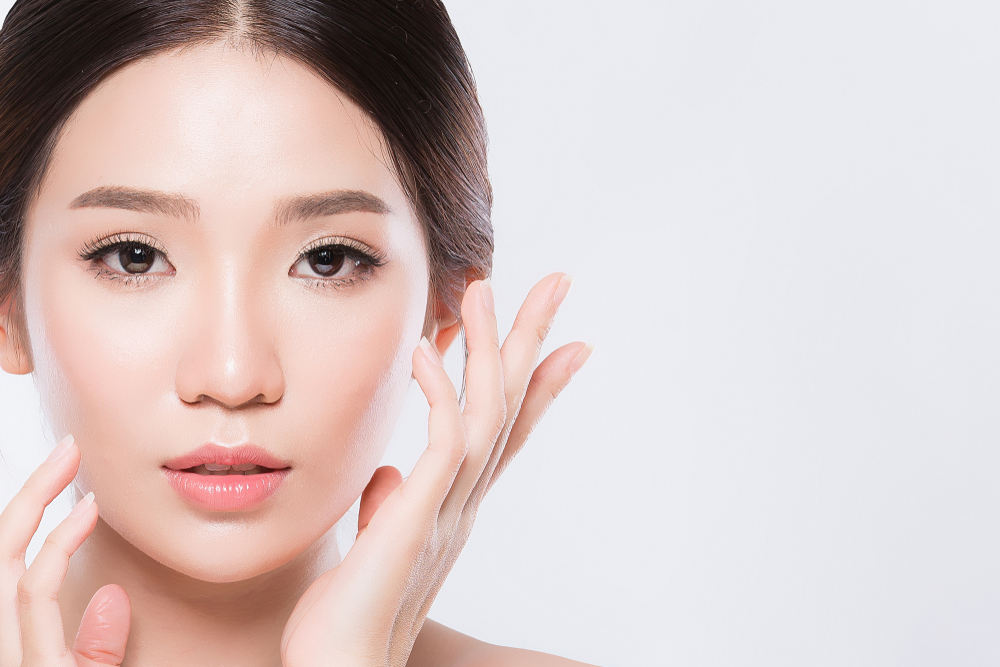 Bagi perempuan saat melakukan aktivitas sehari-hari rasanya kurang lengkap kalau tidak menggunakan makeup. Bila Anda tidak memiliki banyak waktu untuk berdandan, makeup natural adalah solusinya. Anda juga tidak akan terlihat berlebihan bila menerapkan cara makeup yang satu ini. Yuk, intip inspirasi makeup natural sehari-hari berikut ini agar Anda lebih mudah untuk menerapkan makeup tanpa membuang waktu banyak di pagi hari.
Bersihkan Wajah
Sebelum memulai makeup natural sehari-hari, Anda perlu membersihkan wajah dengan pembersih wajah. Kemudian, keringkan dengan cara ditepuk-tepuk lembut dengan handuk kering. Setelah itu, gunakan pelembap yang cocok dengan jenis kulit Anda.
Foundation
Penggunaan foundation berfungsi membantu meratakan warna kulit yang tidak merata. Agar hasil pemakaian foundation lebih natural, sebaiknya gunakan kuas khusus saat mengoleskannya. Aplikasikan tipis-tipis untuk meratakan warna kulit tanpa membuat kulit tampak tertutup "topeng". Pilihlah foundation yang sesuai dengan warna kulit agar tidak tampak berbeda dengan warna leher maupun dada, terutama bila Anda menggunakan baju yang mengekspos keduanya.
Concealer
Makeup natural sehari-hari juga dapat menggunakan concealer. Gunakan concealer sebagai pengganti foundation yang tampak berat. Produk yang satu ini berguna untuk menutupi kekurangan pada kulit wajah seperti menyamarkan kantung mata yang hitam, menyamarkan noda hitam bekas jerawat, dan menutupi warna kulit yang tidak rata. Concealer memiliki beragam macam bentuk, diantaranya berbentuk cream, stick, dan liquid. Gunakanlah jari manis untuk menggunakan concealer karena jari manis biasanya lebih halus permukaannya, lebih mudah dikontrol gerakannya, dan tekanannya cenderung lebih ringan.
Bedak
Ketika memakai bedak padat atau tabur, sebaiknya gunakanlah kuas agar hasil bedak terlihat ringan namun wajah tetap tertutup sempurna tanpa membuatnya tampak tebal.
Gunakan Blush On
Jangan lupa untuk memakai blush on menggunakan jari untuk hasil yang lebih natural. Namun, bila Anda lebih suka menggunakan kuas, sebaiknya tepuk-tepuk perlahan sebelum disapukan ke pipi. Pilih warna natural, seperti warna merah muda, oranye, atau peach. Pakailah blush on sedikit saja supaya terlihat alami dan tidak berlebihan.
Pensil Alis
Melengkapi makeup natural sehari-hari, Anda perlu juga menggunakan pensil alis untuk membingkai wajah dengan sempurna. Saat menggunakan alis, arsirlah secara perlahan dari bagian ujung dalam alis hingga ke bagian ujung luar alis, sesuai dengan arah rambut alis.
Eye Shadow
Tutorial makeup natural sehari-hari selanjutnya adalah pemakaian eye shadow. Namun, sebelum memakainya, Anda perlu menggunakan eye primer terlebih dulu pada kelopak mata agar warna eye shadow semakin keluar dan tahan lama. Gunakan warna-warna yang natural dan soft seperti coklat muda, orange pastel, pink soft, salem, dan warna natural lainnya. Gunakanlah eye shadow matte tipis-tipis agar terlihat natural.
Eyeliner (Opsional)
Meskipun tidak wajib, tapi dalam makeup natural sehari-hari Anda bisa menggunakan eyeliner sebagai tambahan untuk memperindah kelopak mata dan membuat mata terlihat lebih besar. Di pasaran, ada berbagai jenis eyeliner seperti gel, liquid, dan pensil. Cara menggunakannya cukup mudah, Anda perlu menarik garis mulai ujung mata bagian dalam hingga mengarah keluar. Buatlah garis yang tipis saja agar terlihat lebih natural.
Gunakan Maskara
Riasan mata terakhir pada makeup natural sehari-hari adalah melentikkan bulu mata menggunakan penjepit bulu mata sebelum menggunakan maskara. Kemudian, gunakan maskara yang waterproof supaya tidak luntur ketika Anda berkeringat ataupun terkena air. Gunakan maskara secara tipis saja untuk hasil yang terkesan natural.
Pakailah Lipstik Sebagai Penyempurna Makeup
Agar makin flawless, makeup natural sehari-hari harus dilengkapi dengan pemakaian lipstik agar terlihat lebih hidup. Sebaiknya, gunakan lipstik dengan warna-warna soft seperti nude, pink muda, peach, atau bisa juga menggunakan lip gloss jadi hasilnya akan sesuai dengan warna bibir Anda.
Itu dia tips makeup natural sehari-sehari agar tetap fresh yang sangat mudah untuk diterapkan. Meskipun simpel, tapi Anda bisa mendapatkan penampilan natural yang bisa membuat tampilan semakin flawless. Sebagai rekomendasi, Anda bisa menggunakan peralatan makeup dari The Body Shop yang sudah dikenal berasal dari bahan alami, sehingga cukup aman digunakan sehari -hari.
Anda bisa menggunakan produk makeup dari The Body Shop yang menyediakan varian makeup yang lengkap, dan tentunya 100% vegetarian! Cari tahu produk makeup yang tersedia di The Body Shop di situs resminya di www.thebodyshop.co.id.