Kami adalah Brand Feminist!
The Body Shop® sejak awal berdiri telah berkomitmen untuk selalu ikut memperjuangkan kesetaraan hak asasi manusia bagi semua, khususnya perempuan. Sebelumnya, berkat bantuanmu juga, kami telah berhasil mendesak pemerintah menerbitkan Undang-undang 23/2004 tentang Kekerasan Dalam Rumah Tangga melalui kampanye Stop Violence in the Home, serta berhasil mendesak pemerintah meratifikasi UU Perdagangan Anak tahun 2012 melalui kampanye Stop Child Trafficking. Kini, melalui kampanye Stop Sexual Violence, kami memperjuangkan hak perempuan dan melindungi korban kekerasan seksual. Yes, we did this together, Beauty Lovers!
Kekerasan Seksual
Isu kekerasan seksual harus menjadi perhatian kita bersama. Selain karena semakin maraknya kejadian kekerasan seksual yang menimpa semua kalangan masyarakat, juga karena belum adanya kebijakan hukum yang mengakomodir hak-hak korban kekerasan seksual secara komprehensif. Apa lagi secara umum kesadaran masyarakat tentang kekerasan seksual masih sangat minim. Perlu dipahami bahwa setiap tindakan baik berupa ucapan atau perlakuan seseorang untuk menguasai atau memanipulasi orang lain hingga terlibat dalam aktivitas seksual yang tidak dikehendaki adalah kekerasan seksual.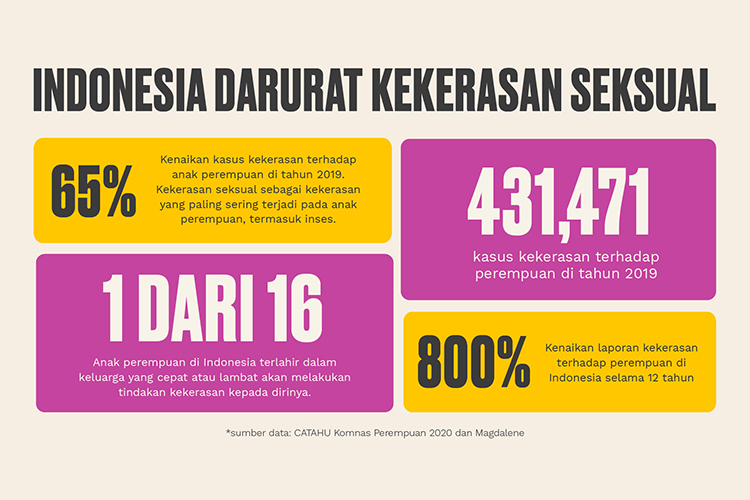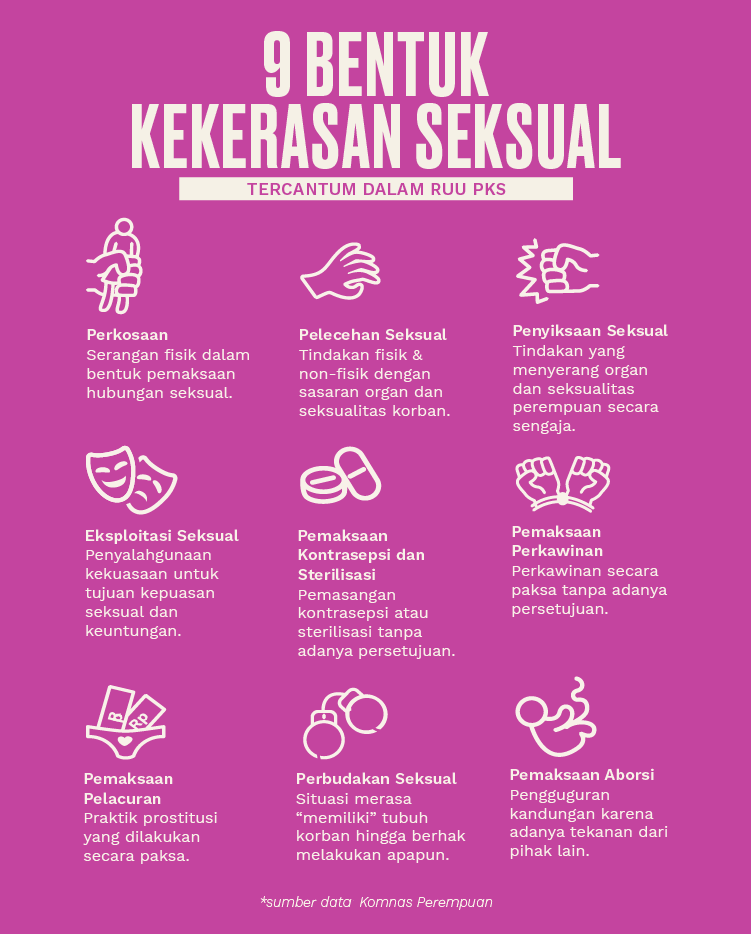 Bentuk kekerasan sexual
Mengapa RUU PKS harus disahkan?
Rancangan Undang-undang Penghapusan Kekerasan Seksual akan menjadi payung hukum untuk mencegah terjadinya kekerasan seksual, menjadi landasan dalam memberikan penanganan, perlindungan, dan pemulihan bagi korban, serta penindakan terhadap pelaku, dan untuk mencegah agar tidak terjadi kejadian yang sama berulang kali.
Dukung Kami!
Dukung kampanye Stop Sexual Violence dengan cara:
Donasi Kasir, kami bersama Yayasan Pulih dan Magdalene ingin memberikan psikoedukasi untuk masyarakat umum tentang isu kekerasan seksual dan memberikan layanan konseling gratis untuk para korban. Donasi dapat dilakukan di seluruh kasir The Body Shop® Indonesia.
Pengumpulan Petisi, untuk mendorong pengesahan RUU Penghapusan Kekerasan Seksual. Petisi nantinya akan diajukan ke Komisi VIII DPR RI.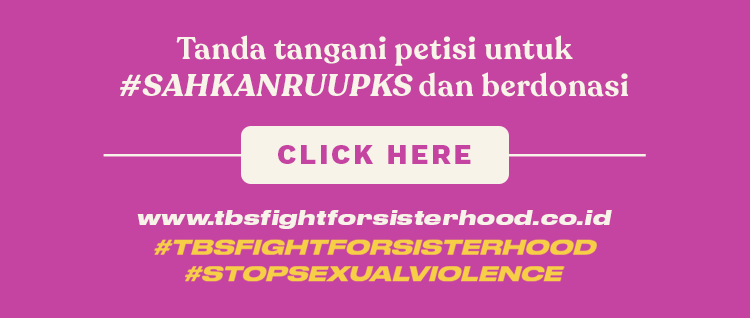 Kampanye ini akan berjalan selama periode 5 November 2020 – 6 April 2021. Dapatkan informasi lengkap seputar kampanye Stop Sexual Violence di www.tbsfightforsisterhood.co.id