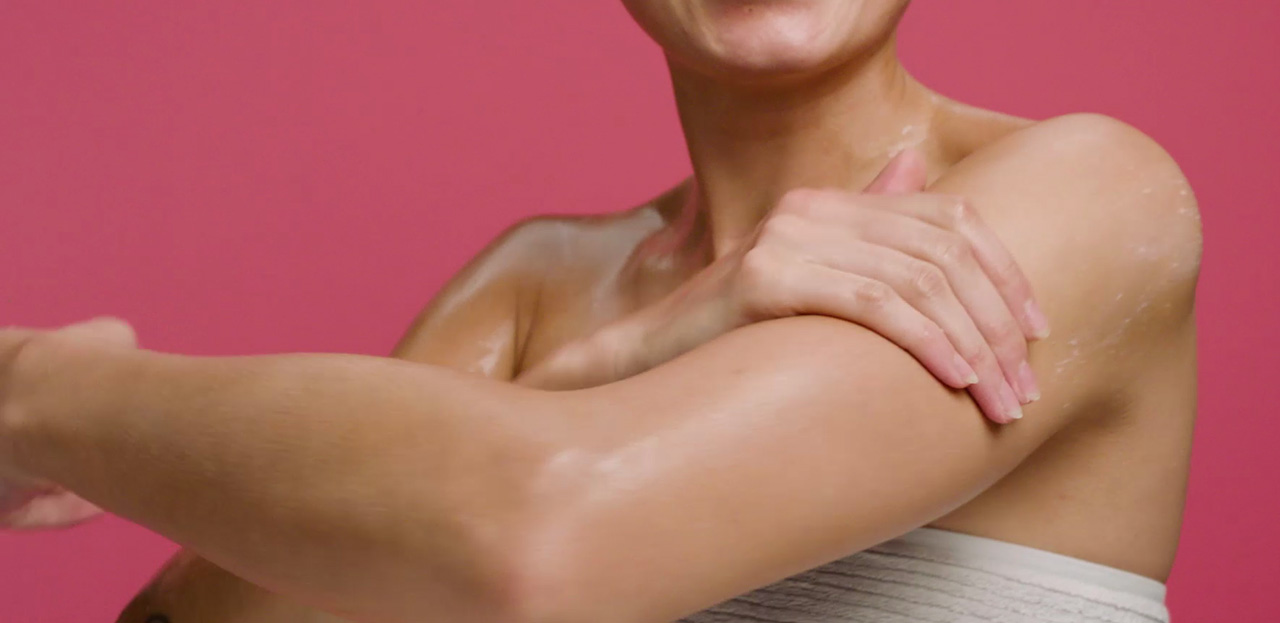 The Body Shop adalah produsen produk perawatan tubuh dan kecantikan yang sudah dikenal oleh banyak kalangan sebagai brand yang sangat berkualitas. Brand asal Inggris ini menyediakan berbagai produk perawatan tubuh, perawatan wajah, hingga perawatan rambut. The Body Shop terkenal dengan penggunaan produk yang berasal dari bahan baku yang alami yang terbukti lebih sehat dan ramah lingkungan. Selain itu, The Body Shop juga tidak melakukan uji coba produk pada hewan dan selalu melakukan kampanye against animal testing sejak awal kemunculannya pada 1976.
Produk dari The Body Shop yang cukup digemari adalah produk perawatan kulit tubuh. Banyak sekali perempuan yang mendambakan memiliki tampilan tubuh yang enak dilihat yang biasanya tampak pada tampilan kulitnya. Maka dari itu, kecantikan seorang perempuan sangat dipengaruhi oleh kesehatan kulit. Banyak cara yang bisa dilakukan untuk mendapatkan kulit sehat alami, baik menggunakan jasa ahli kecantikan yang sekarang marak dipilih oleh para perempuan karena dianggap lebih praktis dan cepat, tapi ada juga perempuan yang masih suka menggunakan produk berbahan alami, seperti menggunakan produk perawatan tubuh yang berasal dari bahan alami seperti The Body Shop.
Untuk mendapatkan tampilan kulit sehat alami, berikut tips kecantikan untuk merawat kulit tubuh secara alami dengan menggunakan produk dari The Body Shop yang bisa membantu Anda mendapatkan tampilan kulit cantik dan sehat.
Spa of The World
The Body Shop memudahkan Anda untuk melakukan kegiatan spa di rumah lewat berbagai produknya, seperti Spa of The World Balkan Juniper Body Wash yang merupakan pembersih tubuh bertekstur gel sebagai salah satu rahasia cantik alami yang mampu membersihkan dan memberikan keharuman yang terinspirasi dari Ethiopian Green Coffee Cream pada kulit. Ada pula Spa of The World ™ Japanese Camelia Body Cream yang memiliki aroma bunga yang bisa memenangkan pikiran dan tubuh dan membantu melembabkan kulit tubuh, sehingga kecantikan dan kesehatan kulit tubuh tetap terjaga.
Shea
The Body Shop mengeluarkan produk Shea yang terdiri dari beberapa varian produk perawatan kulit tubuh, yakni Shea Shower Cream yang merupakan pembersih tubuh yang melembapkan kulit dengan aroma kacang yang menyegarkan. Shea Body Whip adalah pelembab tubuh yang ringan dan lembut, mudah menyerap dan tidak lengket. Sangat cocok untuk kulit yang sangat kering, Shea Eau De Toilette adalah EDT yang ringan dengan aroma kacang shea yang menyegarkan. Terakhir, Shea Body Mist yang memiliki wewangian lembut untuk kesegaran yang tahan lama. Gunakan produk ini sebagai salah satu tips kecantikan ala The Body Shop.
Hand Care
Tips kecantikan lain untuk merawat tubuh yaitu menggunakan produk khusus tangan dari The Body Shop. Salah satu rahasia cantik alami yang The Body Shop ingin bagikan adalah perlunya menjaga tangan tetap bersih sepanjang hari namun harus tetap membuat tangan lembab. Beberapa produk tangan dari The Body Shop adalah Moringa Hand Cream 30ml adalah pelembab tangan dengan tekstur yang ringan dan aroma bunga Moringa yang menyegarkan. Hand Cream ini tidak terasa lengket karena cepat meresap dan cocok untuk semua jenis kulit. Ada pula Absinthe Purifying Hand Wash yang tidak hanya menjadi pembersih tangan tapi juga mampu menyegarkan dan melembapkan tangan Anda.
Feet Care
Perawatan kulit tubuh lain yang dapat Anda lakukan yakni dengan menggunakan rangkaian perawatan kaki. Salah satu produk perawatan kaki The Body Shop, yakni Peppermint Foot Scrub 100ml Scrub, yang diperkaya dengan peppermint essential oil. Senyawa ini membantu membuat kulit kaki terasa lembut dan halus serta mengangkat sel-sel kulit mati dan mencegah aroma yang tidak sedap pada kaki. Menjaga kesehatan kulit kaki pun merupakan salah satu tips kecantikan yang tidak boleh Anda lewatkan.
Bagaimana rekomendasi tips kecantikan alami dari The Body Shop di atas? Semoga bisa membantu Anda mendapatkan kulit tubuh yang cantik dan sehat ya. untuk melihat lebih lengkap produk perawatan kulit tubuh dari The Body Shop, silakan kunjungi situs resminya di www.thebodyshop.co.id.