Beberapa dari kita masih beranggapan bahwa memakai foundation dapat menyumbat pori-pori. Beberapa juga percaya saat sedang berjerawat, langkah terbaik adalah membiarkan kulit bernafas tanpa terhalang foundation. Tapi tahukah kamu? Jika memakai foundation yang tepat, jerawat jadi terlindungi dari paparan sinar matahari, polusi, bahaya radikal bebas, sekaligus memiliki penghalang tambahan sebelum bersentuhan dengan apapun yang bisa membuat iritasi. Yuk, ikuti tips berikut untuk memudahkanmu mendapatkan makeup yang tepat untuk kulit berjerawat.
TEA TREE OIL
Saat jerawat muncul, jangan langsung panik dan jangan sekali-kali menyentuh atau memencetnya! Langkah pertama yang harus kamu lakukan adalah mencuci bersih wajahmu dan oleskan Tea Tree oil untuk membantu mengurangi peradangannya. Gunakan juga rangkaian Tea Tree lainnya untuk perawatan kulit berminyak dan berjerawat.
SHOP NOW
HYDRATION BOOSTED WITH NEW VITAMIN E
MATTE CLAY FOUNDATION
Siap memberikanmu tampilan bebas kilap dan full coverage. Teksturnya ringan dan tetap membuat kulitmu bernafas. Aplikasikan pada wajah dengan complexion blender dengan gerakan menepuk ringan untuk hasil yang merata tanpa membuat area yang berjerawat terasa tidak nyaman.
SHOP NOW
HYDRATION BOOSTED WITH NEW VITAMIN E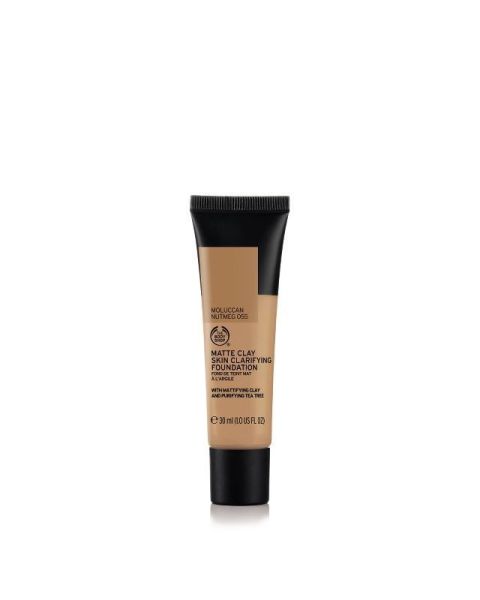 MATTE CLAY CONCEALER
Teksturnya ringan dengan hasil bebas kilap dan full coverage. Kamu tinggal aplikasikan dengan kuas atau jari yang bersih dengan cara menepuk ringan pada bagian yang ingin ditutupi sampai ter-cover sempurna. Gunakan juga Matte Clay Concealer ini untuk mengurangi tampilan kantung mata yang menggelap.
SHOP NOW
MATTE CLAY POWDER
Sebagai langkah terakhir, kamu bisa set dengan Matte Clay Powder untuk tampilan bebas kilap seharian. Jika di tengah aktivitasmu minyak wajah berlebih muncul kembali, lakukan blotting dengan kertas minyak (face paper) dan touch up kembali dengan powder jika dibutuhkan.
SHOP NOW
CAMOMILE SOOTHES AND REMOVES
Selesai beraktivitas berarti saatnya kulitmu beristirahat. Segera bersihkan makeup-mu dengan rangkaian Camomile yang mampu mengangkat makeup hingga ke dalam pori-pori. Ekstrak bunga camomile-nya membuat kulitmu tenang saat dibersihkan, sehingga sangat cocok untuk kamu yang memiliki kulit sensitif dan berjerawat.
HYDRATION BOOSTED WITH NEW VITAMIN E