Beauty Lovers, siapa yang sudah rindu belanja di store The Body Shop®? Menyambut New Normal yang sudah berlangsung saat ini, store kami sudah kembali buka mengikuti jam operasional yang berlaku di mall. Untuk kamu yang ingin berbelanja langsung ke store, tak perlu khawatir karena kami menerapkan beberapa protokol kesehatan.

Setiap store kami sudah menjadi area wajib masker untuk pengunjung dan staff yang bertugas. Kami juga menyediakan hand sanitizer untuk menjaga kebersihan tanganmu. Jumlah tester produk di store sudah dikurangi, namun masih ada beberapa produk yang bisa dicoba dengan menerapkan standar kesehatan. Kamu juga diwajibkan untuk menjaga jarak dan disarankan untuk melakukan pembayaran tanpa tunai. Tak lupa kami juga membatasi jumlah orang di dalam toko sesuai kapasitas masing-masing, agar jarak aman tetap dapat terjaga.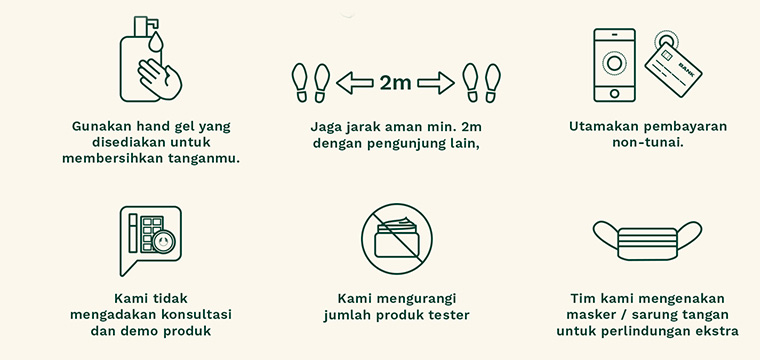 Buat kamu yang belum sempat ke store The Body Shop® atau masih memilih untuk #dirumahaja, don't worry because we're just one chat away! Hubungi Personal Shopper kami di kotamu melalui 08192222399 dan nikmati same day delivery service. We're also one click away from www.thebodyshop.co.id untuk kamu yang mau berbelanja online dengan mudah.
Kami akan selalu #hadiruntukmu!