THE STORY BEHIND CHANGEMAKING BEAUTY STORE
MY PHILOSOPHY
Beauty Lovers, perkenalkan, aku adalah store terbaru The Body Shop® dengan konsep Changemaking Beauty Store pertama di Indonesia. Aku hadir sebagai sebuah tempat yang menunjukkan identitas The Body Shop® melalui store yang tampak lebih sustainable dengan sudut bahkan properti yang dibuat dari bahan alami pilihan hingga hasil daur ulang. Di sini, kamu bisa mendapatkan berbagai pengalaman seru dengan produk-produk favoritmu. Aku dirancang untuk mencerminkan tujuan brand, menginspirasi, mengedukasi, dan mengajakmu untuk bergabung bersama menuju dunia yang lebih indah dan adil.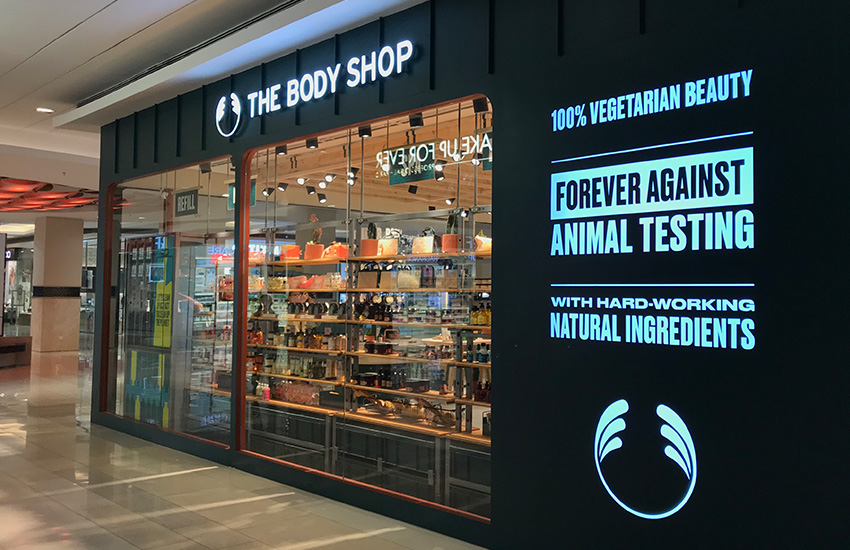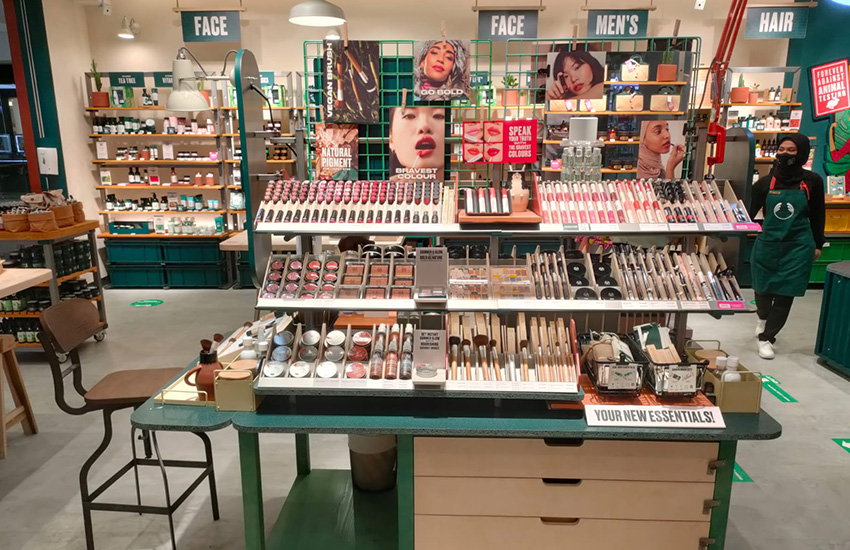 WHAT'S SO GREAT ABOUT ME?
Saat melangkah ke dalam store-ku, kamu seakan melihat sebuah artisan workshop karena inilah konsep yang ingin dihadirkan. Ada perpaduan raw dan real material, dan aku juga menggunakan bahan yang di reclaimed, upcycled, dan recyled dengan properti yang terinspirasi dari perlengkapan para pengrajin di bengkel seni.
MEET THE PROPS IN MY STORE
Laura Bird Vase
Vas ini adalah karya seorang ahli keramik dari London Timur berupa feminist vase untuk membuat kesan humoris. Kalau lagi berkunjung, coba temukan di area makeup ya!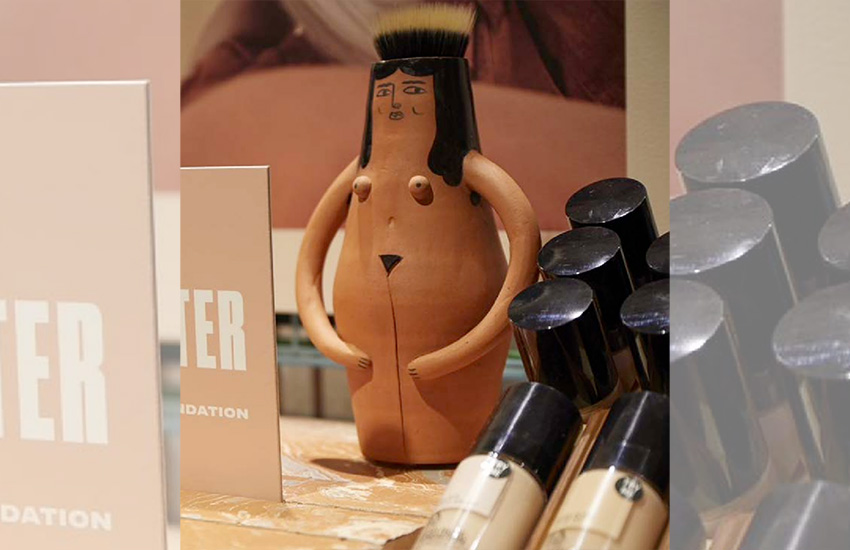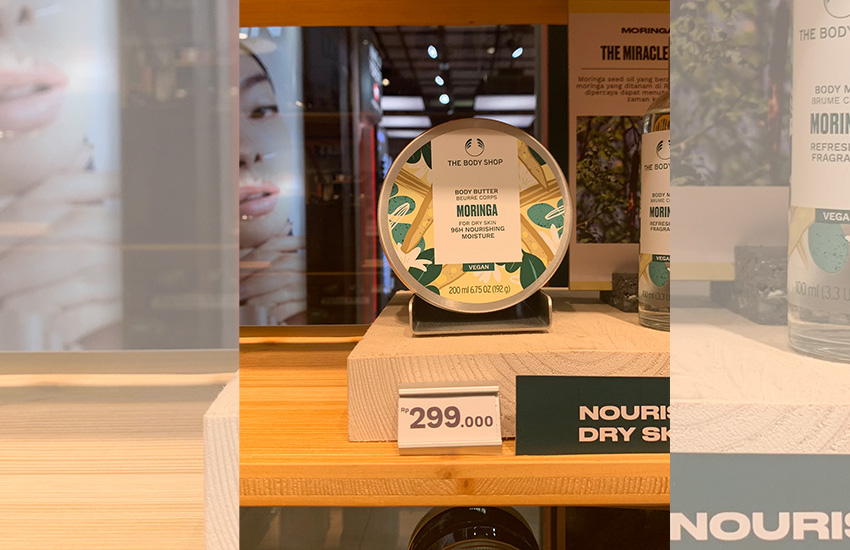 Bay Plints Body Butter
Kalau kamu lihat di Body Care bay aku, ada sebuah plinths atau holder di bawah Body Butter. Plinths ini terbuat dari hasil daur ulang kayu scaffolding dengan finishing sun-bleached.
Paper Bags
Aku juga menggunakan Paper Bags sebagai display bag di beberapa sudut. Tas ini terbuat dari kertas bersertifikat FSC yang biodegradable, jadi tidak membahayakan lingkungan.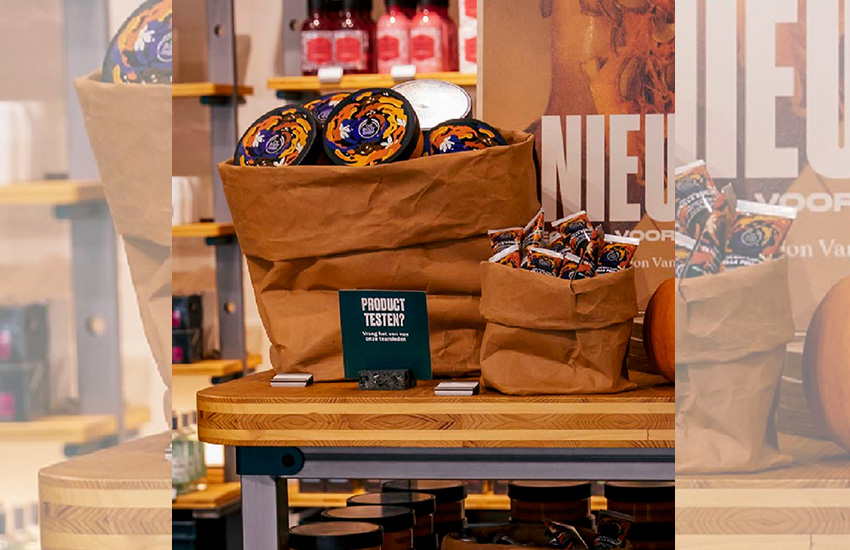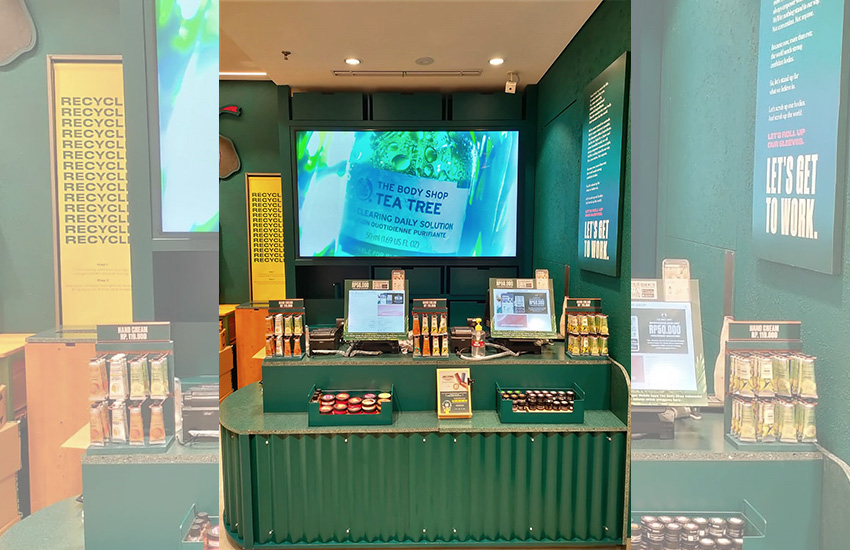 Meja Kasir
Untuk meja kasir yang ada di store-ku, aku menggunakan material EKOply yang ramah lingkungan karena terbuat dari 100% sampah plastik tidak beracun, dan tahan lama.

COLLABORATING WITH LOCAL PARTNERS
Recycled Ceiling
Di bagian langit-langit store, kamu bisa temukan Recyled Ceiling yang terbuat dari kayubekas peti kemasan yang membungkus produk The Body Shop® saat dikirimkan ke Distribution Centre. Inilah salah satu usahaku dalam dalam menjalankan komitmen menuju circular economy.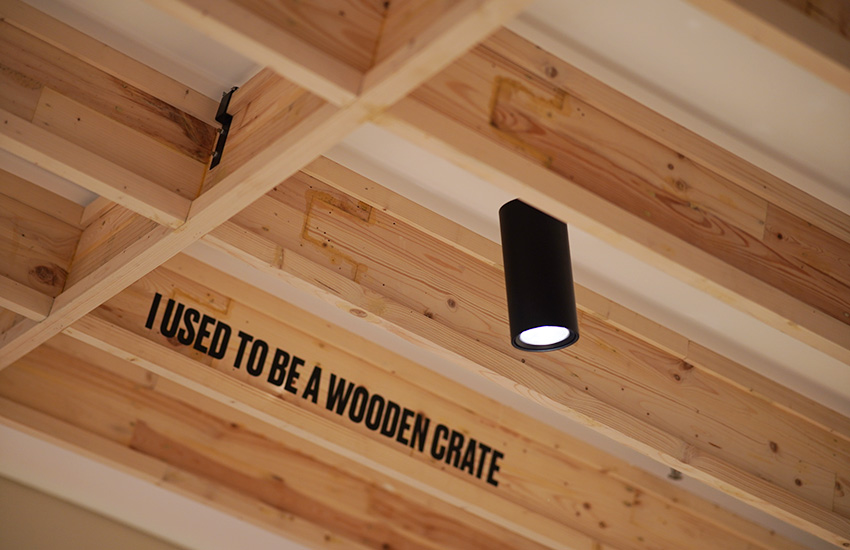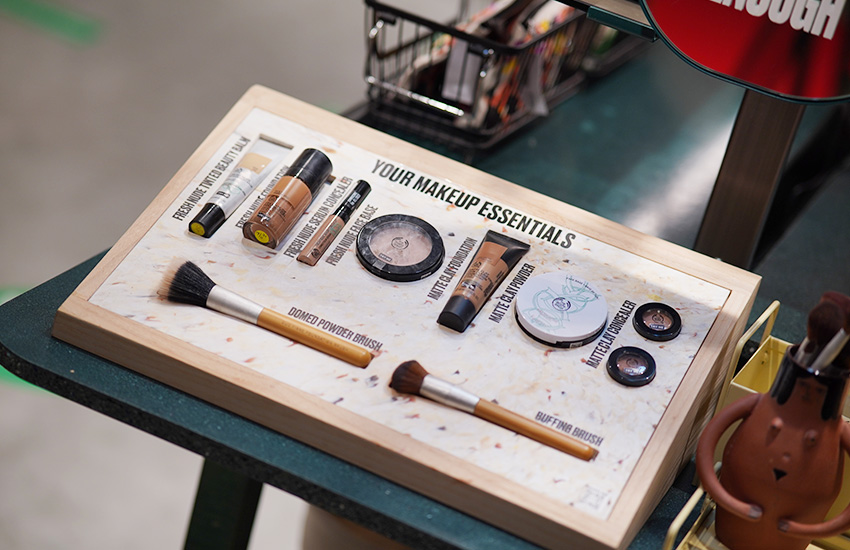 Recycled Skincare & Makeup Props
Ada yang sudah punya Recycled Soap Dish, Mirror, dan Hair Comb dariku? Nah, aku bekerja sama dengan Ecollabo8 untuk membuatnya, lho! Kali ini Ecollabo8 kembali mendukungku dengan memproduksi makeup holder yang terbuat dari kemasan kosong yang dikembalikan oleh customer dalam program Bring Back Our Bottles. Fun fact, untuk memproduksi setiap 1 makeup holder, membutuhkan sekitar 500gr kemasan plastik!

Recycled Terracotta
Kalau biasanya sampah puntung rokok tidak dilihat sebagai sampah yang bernilai, bedadengan Parongpong dan Conture Concrete Lab. Mereka berkolaborasi mengolah sampahpuntung rokok menjadi pot terracotta dan wadah produk yang bisa kamu temukan di store-kuini lho!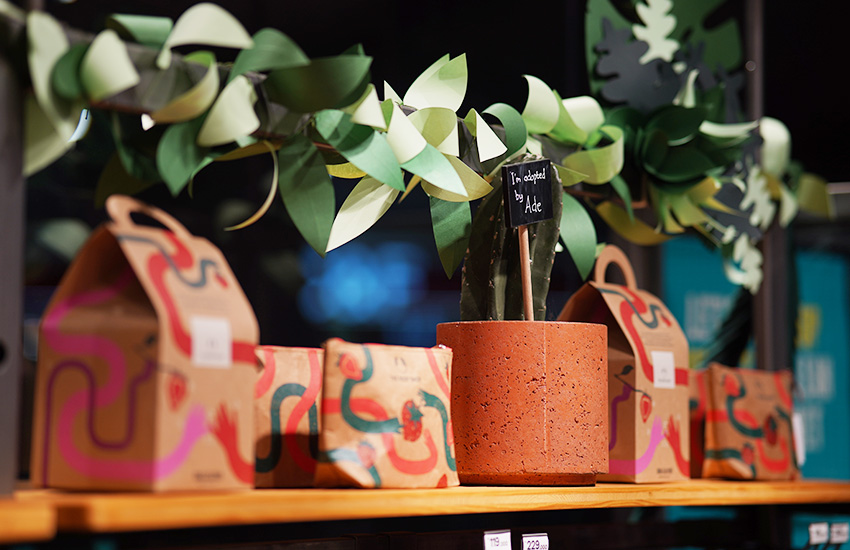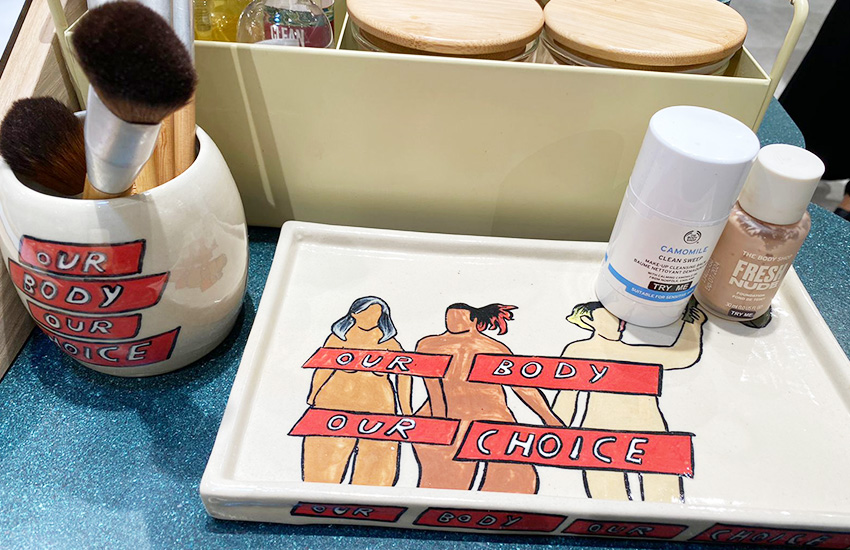 Pottery by Sekar Puti
Melalui tagline OUR BODY OUR CHOICE, koleksi kolaborasi The Body Shop® Indonesia dan seniman keramik lokal, Sekar Puti Sidhiawati dari Arta Derau Studio ini menjelaskan pentingnya untuk kembali menguatkan ikatan antara tubuhdengan diri. Tidak ada siapapun di luar sana yang berhak mengontrol tubuh dan diri, selain diri kita sendiri.

Untuk membuat properti ramah lingkungan yang ada di store, tentu aku nggak sendiri! Aku bekerja sama dengan beberapa mitra lokal lho.

REFILL, REUSE, AND REPEAT AT MY REFILL STATION
Saat ini, kamu bisa temukan salah satu Refill Station-ku di Changemaking Beauty Store Kota Kasablanka ini. Selain itu, ada juga di Paris Van Java Bandung, Hartono Mall Jogja, GaleriSimpang Siur Bali dan di 8 store lainnya. Di sini kamu bisa mengisi ulang beberapa produkdengan botol aluminium kami. Tapi kamu tak perlu ke Refill Station untuk membeli botolatau isi ulang kembali, karena sekarang sudah bisa dilakukan di store The Body Shop® seluruh Indonesia!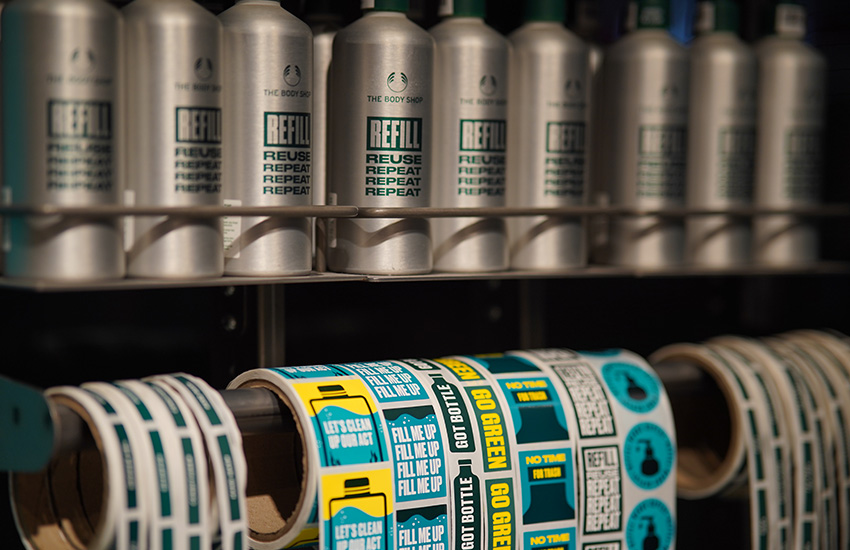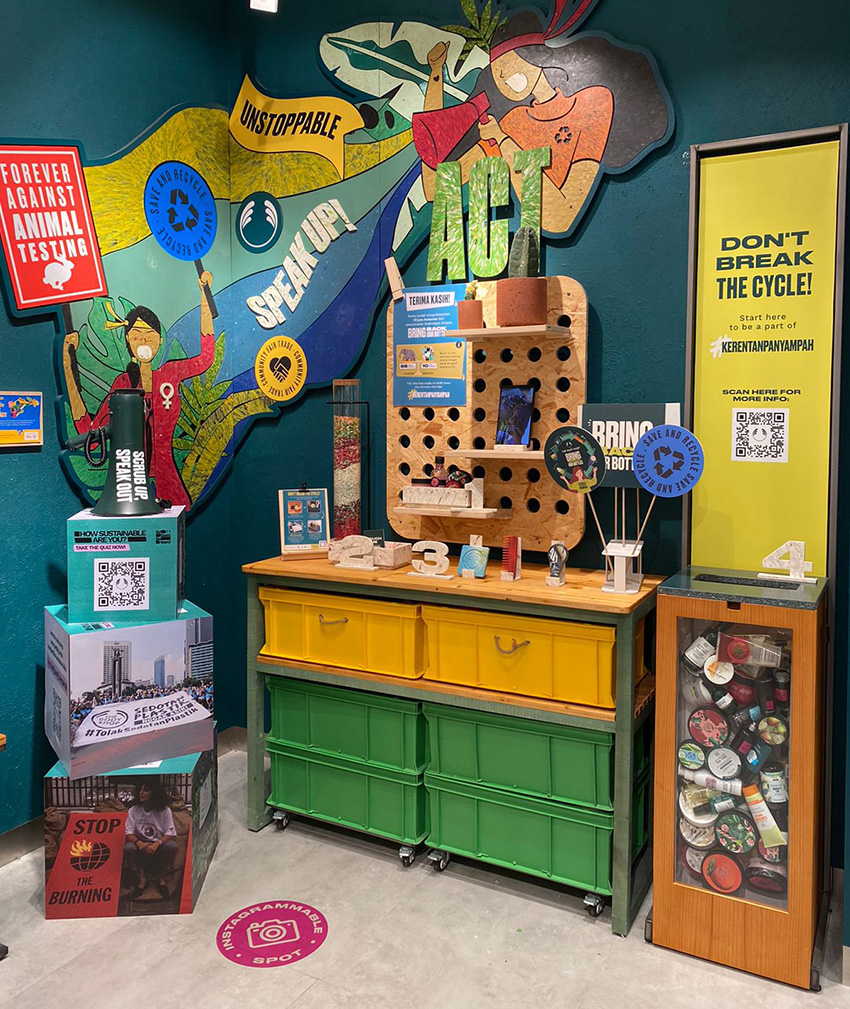 BE THE CHANGEMAKER AT ACT CORNER
WE NEED YOUth TO STAND UP, SPEAK UP & ACT!
Did you know?
Mural yang ada di Act Corner ini terbuat dari ± 80 kg plastik yang berasal dari kemasan kosong The Body Shop® dan sampah plastik di laut hasil kerja sama dengan Bali Design Center dan Ecollabo8.
Sudut store yang satu ini menceritakan bagaimana perjalanan The Body Shop® yang dimulai dari seorang aktivis perempuan yang ingin membuat perubahan positif bagi dunia. The Body Shop® tak hanya sebuah bisnis yang mencari keuntungan tapi juga punya kekuatan untuk berjuang demi dunia yang adil dan indah. Aku ingin terus menginspirasi untuk menyuarakan kesetaraan gender, pemberdayaan perempuan, melawan stigma, sekaligus melestarikan bumi.
Di Act Corner ini, kamu juga bisa melihat bagaimana kami menerapkan konsep full circular economy dengan bertanggung jawab atas seluruh kemasan kosong yang dikembalikan oleh customer, mulai dari pengumpulan hingga pengolahan untuk menjadi berbagai recycled product yang menarik.
Kamu juga bisa cek seberapa ramah lingkungan gaya hidupmu dengan mengakses Sustainable Quiz yang ada di Act Corner! Setelah mengisi kuisnya, kamu bisa tahu langkah apa yang bisa dilakukan supaya bisa terus sustainable dan hemat emisi karbon. Jangan lupa untuk share result di sosial media supaya bisa menginspirasi lebih banyak orang untuk mengetahui pentingnya mengubah gaya hidup untuk melawan perubahan iklim!
BRING BACK OUR BOTTLES DROPBOX
Sudah kenal dengan Bring Back Our Bottles (BBOB) belum? Yes, melalui program yang sudah berjalan sejak tahun 2008 ini, aku mengajakmu untuk mengembalikan kemasan kosong produk The Body Shop® ke store terdekat untuk didaur ulang dan hasil pengolahannya dapat berupa barang baru yang juga bisa kamu temukan lagi di store.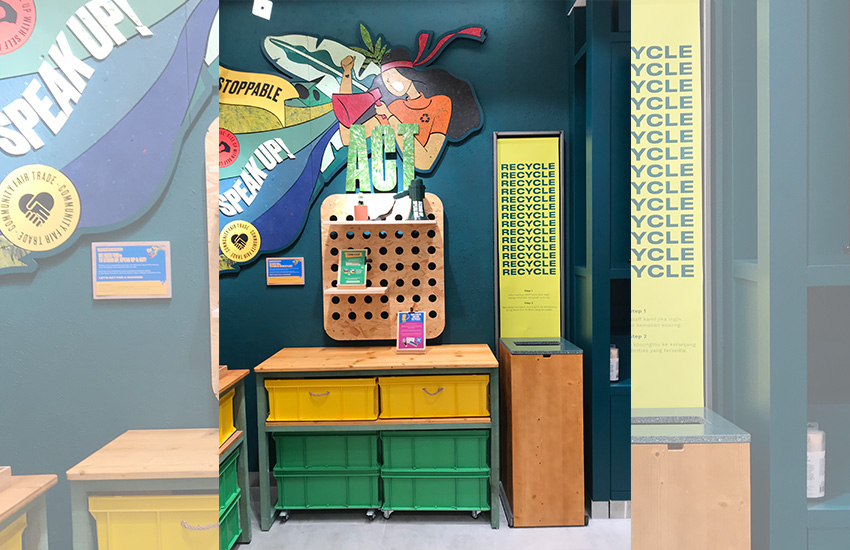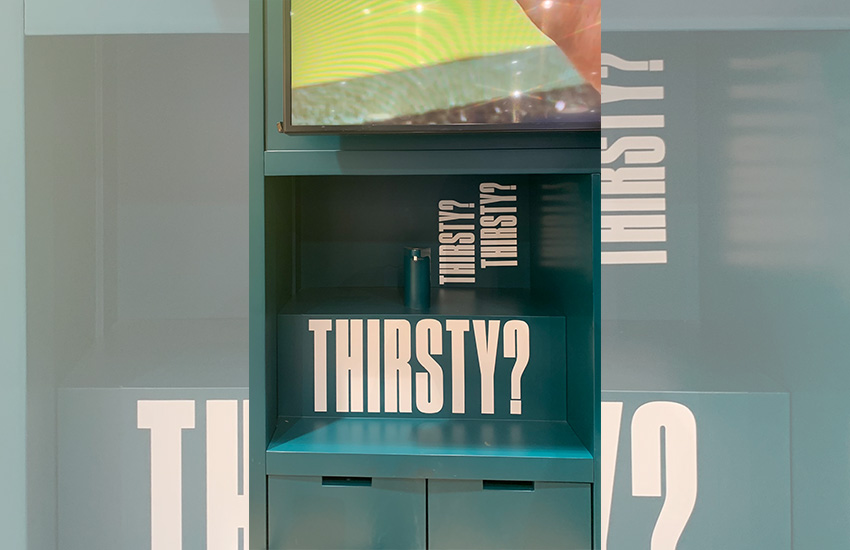 WATER BOTTLE REFILL WATER
Tahu nggak? Kamu bisa isi ulang tumbler atau botol minum kamu di 35 store The Body Shop® seluruh Indonesia lho! Bekerja sama dengan RefillMyBottle, kami menyediakan water refill station gratis yang bisa buat kamu #KerenTanpaNyampah dengan mengurangi pembelian air minum dalam kemasan. Jadi, nggak ada alasan lagi untuk males bawa tumbler kemana-mana.
Cukup datang ke store kami, dan minta bantuan staff untuk mengisi ulang tumbler kamu. Tidak perlu belanja dan tidak dipungut biaya lho.
GIFTING STATION
Mari kita tunjukkan aksi yang nyata untuk membersihkan planet ini, dan kita bisa memulainya dari revolusi pengisian ulang! Saat ini, The Body Shop® sedang mengembangkan refill station di 500 store yang ada di seluruh dunia. Di Indonesia, kami sudah memulainya di tahun 1992 saat The Body Shop® pertama kali buka di Indonesia, dan kini refill station hadir kembali dengan inovasi yang lebih modern. Di store tersebut, kamu bisa mengisi ulang beberapa produk dengan membawa kemasan botol alumunium kami.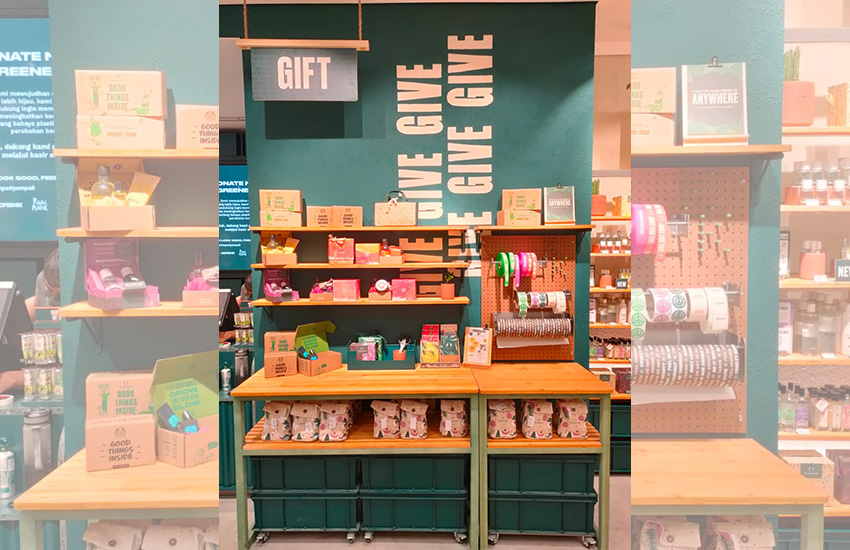 Nah, inilah cerita dari Changemaking Beauty Store yang terbaru dari The Body Shop®. Selain bisa memberikan experience belanja yang berbeda, aku juga ingin menginspirasi setiap orang untuk ikut menjadi bagian dari perubahan. Aku tunggu kedatanganmu ke sini ya, Beauty Lovers!
---