APA ITU FRAGRANCE LAYERING?
Fragrance layering atau teknik lapis parfum adalah seni menggunakan kombinasi beberapa jenis parfum secara bersamaan. Tren ini dimulai di Timur Tengah, merupakan sebuah tradisi sejak 3000 tahun sebelum Masehi. Di dunia Timur Tengah modern ini, perempuan dan laki-laki menganggap parfum sebagai ritual yang penting. Mereka memakai Essences, Fragrances, dan Spritzes untuk menciptakan keharuman khas yang revolusioner.
APA YANG UNIK DARI FRAGRANCE LAYERING?
Manfaat dari fragrance layering adalah tiap-tiap individu dapat membuat aroma parfum yang berbeda satu sama lain. Jika kamu mencari parfum yang benar-benar tepat untukmu, cobalah mencampurkan 2-3 parfum untuk menciptakan satu aroma baru yang khas. Tentunya seru banget 'kan bisa membuat parfum yang khas dan sudah pasti kamu banget?
BERKENALAN DENGAN RANGKAIAN SCENTS OF LIFE
Ciptakan aroma unik dengan koleksi wewangian terbaru Scents of Life, yang dibuat bersama dengan perempuan-perempuan dan influencer hebat dari Timur Tengah. Dengan lima Essences, lima Fragrances, dan lima Spritzes, kamu dapat benar-benar mengekspresikan dirimu sendiri!
EXPLORE OUR SCENTS OF LIFE RANGE
APA ITU ESSENCE?
"Essences adalah format terkonsentrasi yang didesain untuk seseorang yang mencari sesuatu yang spesial dan mewah. Seluruh produk dari kelompok ini dibuat tanpa alkohol dan merupakan aroma yang 'dekat' dengan tubuh, sehingga hanya orang-orang yang dekat denganmu yang dapat mencium aromanya. Mereka lebih sulit menyebar (difusif) dan sangat tahan lama." Roger Schmid, Fragrance Expert
Essence adalah wewangian yang intens dan mewah. Kamu dapat memulai fragrance layering dengan Essence karena campuran aromanya yang cenderung lebih sederhana dapat mengkomplemen aroma lain yang lebih kompleks. Untuk pengalaman sensorial yang maksimal, oleskan perfume oil ini pada leher dan titik-titik nadi.
Ginger & Cinnamon
Perpaduan aroma hangat dari ginger, cinnamon, dan tobacco.
Rose & Cedarwood
Keharuman rose dengan campuran mint dan cedarwood.
Bergamot & Patchouli
Essence yang aromatik dari patchouli, amber, dan bergamot.
Musk & Mandarin,
Aroma mewah dengan perpaduan mandarin, musk, dan vanilla.
Iris & Violet
Aroma floral yang lembut dari violet, amber, dan iris.
APA ITU FRAGRANCE?
"Fragrance lebih memiliki kesan modern-oriental, parfum yang disempurnakan dengan kombinasi eau de toilette dengan sentuhan oriental. Gunakan pada titik-titik nadi untuk mendapatkan efek yang tahan lama." Roger Schmid, Fragrance Expert
Fragrance adalah parfum yang tahan lama. Diformulasikan secara mutakhir dengan kesan elegan. Mulailah harimu dengan menyemprotkan Fragrance dari Scents of Life, dan kombinasikan dengan Essence dan Spritz favoritmu untuk menciptakan aroma baru yang unik.
Spice Sensation,
Aroma spicy dengan perpaduan pepper, patchouli, dan vanilla.
Red Fixation,
Wangi floral dari rose bercampur dengan aroma musk.
Gold Addiction,
Fragrance floriental dari campuran ylang ylang, jasmine, dan vanilla.
Amber Wonder,
Aroma classy oriental dari kombinasi cardamom dan amber.
Pure Attraction,
Aroma chypre dari campuran bergamot, lavender, dan musk.
APA ITU SPRITZ?
"Spritzes adalah kategori aroma yang paling ringan. Mereka dapat memberikan tambahan kesegaran untuk keseluruhan aroma. Semprotkan pada pakaian dan sekitar tubuhmu dan bersenang-senanglah!" Roger Schmid, Fragrance Expert
Spritz sangat cocok digunakan untuk menambah aroma kesegaran dalam perjalanan. Mereka ideal untuk dibawa ke mana-mana sebagai parfum on-the-go. Dibuat dengan susunan aroma yang menyegarkan, satu semprotan saja dapat membantu memperbaiki suasana hatimu!
Say Yes!,
Aroma floral dari rose dan jasmine dengan sentuhan cedarwood.
Charm Me,
Aroma woody dengan campuran vanilla, orchid, dan sandalwood.
All Mine,
Kesegaran floral dari passionfruit, magnolia, dan cedarwood.
Sweet Love,
Perpaduan aroma manis dari strawberry, jasmine, dan musk.
My Pick,
Keharuman floral dengan aroma pear blossom, peony, dan musk.
REKOMENDASI CARA FRAGRANCE LAYERING
Ada yang mengatakan bahwa kunci dari fragrance layering adalah memakai parfum dengan kelompok aroma yang sama. Kamu dapat memilih dari kelompok aroma woody, floral, gourmand, oriental, floriental, dan lain-lain. Citrus, vanilla, dan musk adalah aroma serbaguna yang cocok dicampurkan dengan aroma lainnya.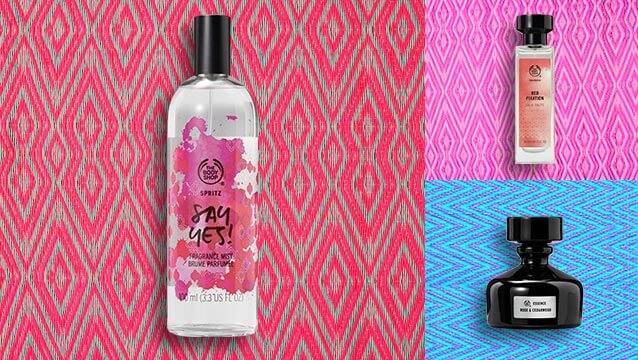 SOMETHING FLORAL
Elegan, feminin, dan romantis, parfum-parfum floral memang adalah favorit banyak orang. Aroma mint pada Rose and Cedarwood Essence berpadu sempurna dengan musk dan rose in the Red Fixation Fragrance. Lengkapi kombinasi ini dengan rose, jasmine, dan cedarwood dari Say Yes! Spritz.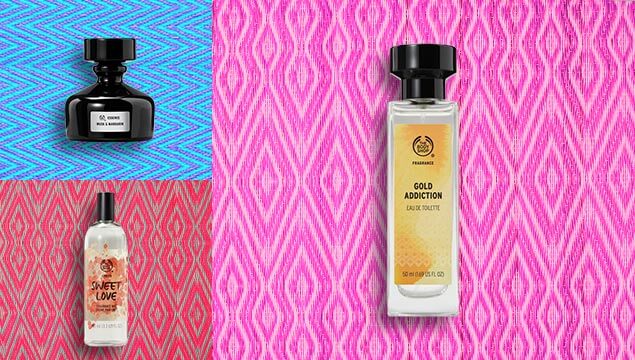 SOMETHING WARM
Mulailah fragrance layering dengan Musk and Mandarin Essence. Tambahkan keharuman floriental Gold Addiction Fragrance yang memiliki aroma ylang ylang. Kemudian, lapisi kembali dengan aroma segar strawberry, jasmine, dan musk dari Sweet Love Spritz.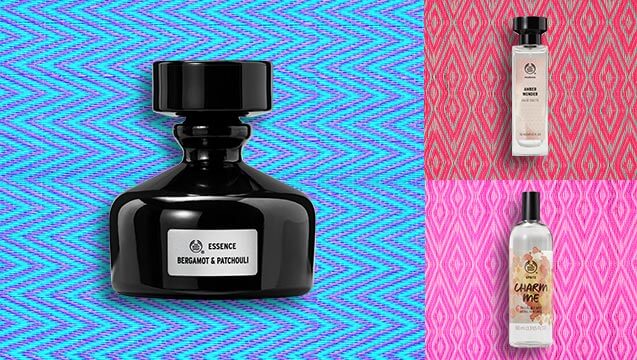 SOMETHING VELVETY
Untuk memberikan sentuhan oriental, kamu bisa melapisinya dengan Amber Wonder Fragrance yang velvety di titik-titik nadi, dan sempurnakan dengan semprotan wewangian woody vanilla, orchid, dan sandalwood dari Charm Me Spritz.