Simak bagaimana kamu bisa memiliki kulit kencang dengan rangkaian Spa of The World™ Firming Ritual.
LET'S RELAX AND UNWIND IN 3 STEPS
STEP 1 – MASSAGEMakrut lime telah digunakan oleh perempuan Thailand dari generasi ke generasi karena kemampuan membangkitkan semangat—aku tambahkan pada body massage oil ini. Gunakan sebagai minyak pijat untuk membangkitkan semangat selepas beraktivitas seharian. Tidak hanya lembut dan halus, makrut lime juga mampu membantu mengencangkan kulit di sekitar lengan, perut, pinggang, pinggul, bokong, dan paha.
STEP 2 – SCRUBAku mendapatkan grape seed powder dari Prancis dan Community Trade organic sugar dari Paraguay sebagai pengganti eksfoliator buatan yang kasar dan tidak ramah lingkungan. Tekstur kasar dari keduanya mampu mengangkat sel-sel kulit mati sehingga kulit terasa lembut dan halus. Aromanya yang unik juga akan menyegarkan harimu!PRO TIP: Campur dengan Thai Makrut Body Oil dan lakukan gerakan memutar ke atas untuk membantu mengencangkan kulit.
STEP 3 – NOURISHSetelah pijat dan eksfoliasi, lembapkan kulitmu dengan Ethiopian Green Coffee Cream dengan kandungan organic green coffee yang kaya akan kafein. Membantu kulit agar tampak lebih kencang terutama pada bagian lengan, perut, pinggang, pinggul, bokong, dan paha.
SPA OF THE WORLD™BLISSFUL RITUAL
Sempurna untuk kamu yang menyukai aroma mewah dari tiare flower dan coconut oil.
SPA OF THE WORLD™RELAXING RITUAL
Ketika kamu merasa jenuh, nikmati aroma bunga-bungaan yang lembut seperti lavender dan camellia.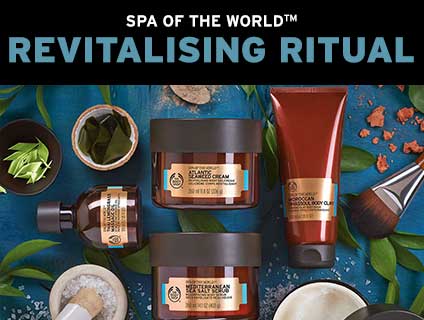 SPA OF THE WORLD™REVITALISING RITUAL
Aroma yang menyegarkan dari bahan-bahan alami seperti seaweed dan garam laut ini akan membantu meremajakan kulitmu.