Pentingnya Hyaluronic Acid dalam Skincare Rutinmu

Pentingnya Hyaluronic Acid dalam Skincare Rutinmu
Hyaluronic Acid adalah kandungan alami yang sebenarnya sudah ada pada setiap per-mukaan kulit manusia. Molekul yang berperan sebagai bantalan sendi, syaraf, dan memberi hidrasi untuk kulit dan rambut berkat kemampuannya yang mampu menahan kelembapan. Kita mungkin sering melihat produk-produk kecantikan yang menitik beratkan bahwa kan-dungan utamanya adalah Hyaluronic Acid, namun tidak begitu mengerti kondisi seperti apa yang terjadi pada kulit yang mengharuskan untuk menggunakan Hyaluronic Acid. Keunggu-lan Hyaluronic Acid sendiri adalah mampu mempertahankan kelembapan, asam ini diang-gap sebagai bahan yang sangat penting untuk anti-aging dan meremajakan kulit karena memiliki antioksidan yang tinggi. Mau tahu bagaimana untuk mengaplikasikan Hyaluronic Acid dalam skincare routine? Simak cara untuk selalu meremajakan kulit setiap harinya.
Gunakan Gentle Facial Wash
Rutinitas membersihkan wajah adalah yang paling penting dalam skincare routine. Pilihan produknya juga harus pas dengan penggunaan harian. Gunakan produk yang lembut di kulit dengan tujuan tidak membuat kulitmu terasa kering setelah dibersihkan.E Gentle Facial Wash adalah produk dengan tekstur krim yang dapat membersihkan make-up hingga ko-toran pada wajah secara menyeluruh tanpa meninggalkan rasa kering setelah digunakan.
Tip: Selalu gunakan pada kulit yang sudah dibasahi dan dipijatkan dengan lembut. Gunakan pula facial cloth atau facial brush untuk membersihkan kulit pada malam hari untuk hasil yang maksimal.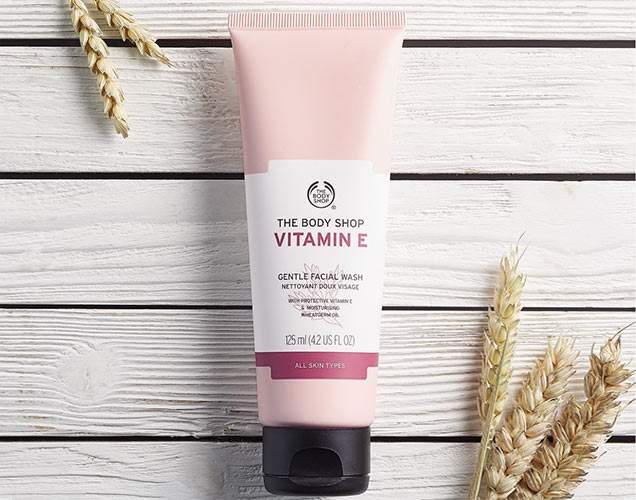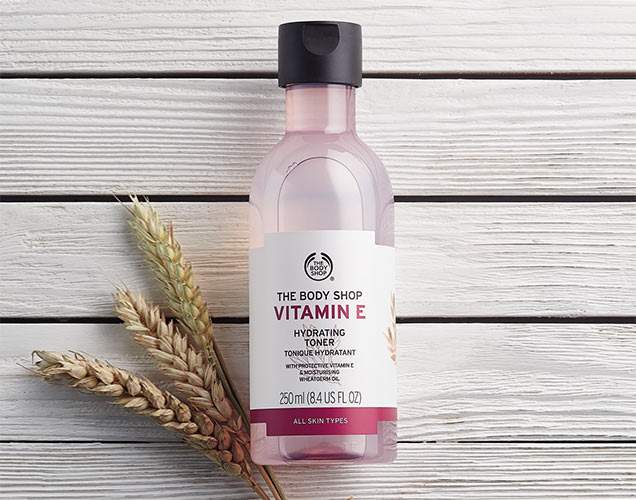 Segarkan Kulit dengan Toner
Jangan sepelekan toner karena produk ini dapat membantu kulit untuk bersiap sebelum menggunakan produk berikutnya.Bagi beberapa orang menggunakan toner akan terasa kering karena mengandung alkohol berlebihan. Vitamin E Hydrating Toner dari The Body Shop merupakan produk yang mengandung kandungan vitamin E alami sebagai antioksi-dan dan gliserin untuk membantu membersihkan sisa-sisa kotoran yang masih melekat pada kulit serta membuat kulit terasa lembap. Say yes to smooth, supple and velvety skin!
Tip: Aplikasikan menggunakan kapas pada wajah hingga leher.
Kunci Kelembapan dengan Essence

Setelah dibersihkan, pasti yang kita harapkan adalah dapat mengaplikasikan perawatan sesungguhnya. Hyaluronic Acid dalam skincare menjadi nilai tambah untuk kulit yang mem-butuhkan asupan nutrisi dan kelembapan yang lebih lama. Vitamin E Aqua Boost Esssence Lotion adalah produk essential setelah cleansing. Formula gel yang tidak akan memberikan rasa lengket, terasa nyaman pada kulit, dan tentunya dapat memberikan kelembapan seharian. Kandungan antioksidan yang didapat dari wheatgerm oil, salah satu sumber vita-min E yang terbaik, membantu melindungi kulit dari radikal bebas dan faktor lingkungan yang dapat merusak kesehatan kulit.
Tip: Teteskan pada tangan dan aplikasikan setiap hari pada pagi dan malam setelah mem-bersihkan wajah. Gunakan sebelum toner dan moisturiser dengan memberikannya waktu untuk menyerap terlebih dahulu sebelum menlanjutkan ke produk setelahnya.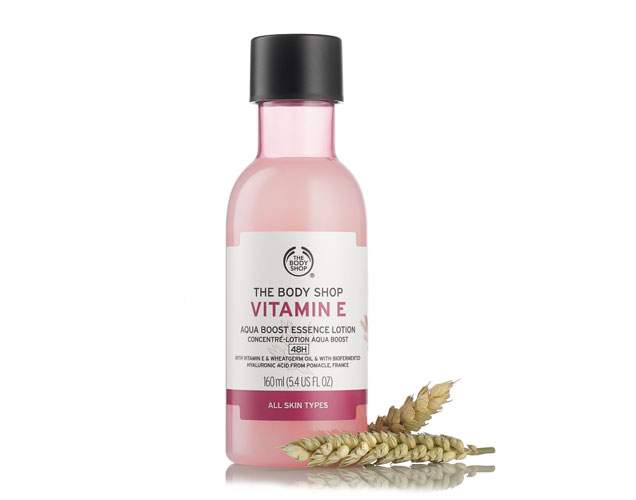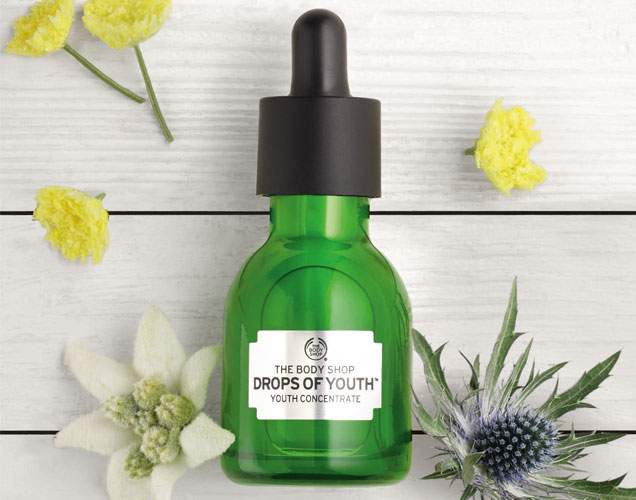 Tambahkan Skin Booster

Bagi pemilik kulit kering, penting sekali untuk memberikan ekstra hydrator. Salah satunya dengan Drops of Youth™ Youth Concentrate yang mengandung bahan-bahan nat-ural. Nah, perawatan wajah untuk anti aging dari The Body Shop ini mampu memperhalus tampilan garis halus dan kerutan, mendorong regenerasi sel kulit untuk tampilan kulit lebih lembut, lebih segar, lebih sehat, serta dapat mempertahankan keremajaan kulit.
Jangan Lupakan Bagian Mata
Area mata cenderung dilupakan saat melakukan perawatan wajah, padahal hal ini salah kaprah! Kulit area mata cenderung lebih tipis dan sensitif sehingga tanda-tanda penuan muncul pertama kali di area mata. Pelembap mata yang dapat membuat kulit disekitar mata terasa lembap adalah produk yang wajib diaplikasikan setiap harinya. Seperti Vitamin E Eye Cream, yang dapat mengurangi tampilan mata yang sembab, dark circle, garis halus, dan tentunya dapat mencerahkan area mata.
Tip: Oleskan secara lembut menggunakan jari manis, karena jari manis adalah jari yang memiliki tekanan paling lembut dari semua jari.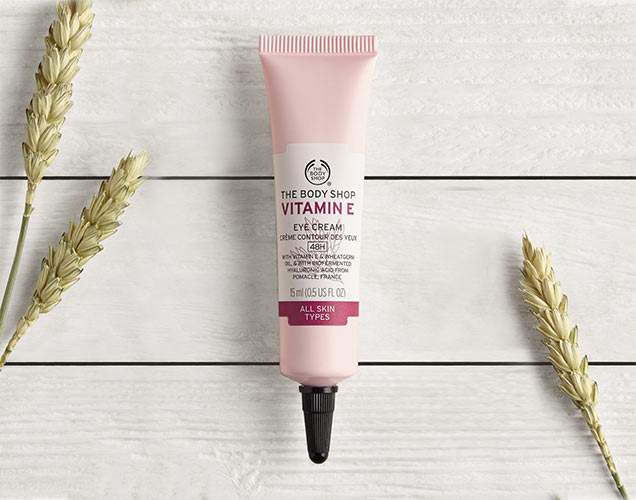 Kelembapan yang Wajib untuk Siang dan Malam

Dalam memilih pelembap, kita harus menyesuaikan dengan keadaan kulit kita. Setelah menggunakan essence, ada beberapa pilihan alternatif yang bisa digunakan:
Kulit Sangat Kering Para pemilik kulit yang sangat kering dan selalu berada ditempat yang dingin, coba gunakan The Body Shop Instense Moisture Cream yang miliki teksture rich cream dan dapat mem-berikan kelembapan intensif.

Kulit Kombinasi Krim pelembap berbahan gel seperti Vitamin E Gel Moisture Cream, menjadi pilihan yang tepat untuk si kulit kombinasi yang tidak ingin wajahnya seperti kilang minyak ketika di siang hari. Formula bebas minyak dengan hyaluronic acid dan raspberry extract ini memberikan kulit hidrasi hingga 48 jam.


Semua jenis kulit Kulit normal memiliki bagian yang juga dapat terasa kering dan memerlukan produk dengan tekstur krim yang cepat menyerap. Vitamin E Moisture Cream dari The Body Shop akan meninggalkan kulit dalam keadaan lembut dan lembap tanpa lengket.



SPF Untuk Beraktivitas
Sun Protection Factor (SPF) mengacu pada rating atau tingkat perlindungan terhadap sinar UVB sedangkan PA mengacu pada tingkat perlindungan terhadap UVA yang dapat mem-berika efek buruk untuk kulit jika terus-terusan terpapar saat beraktivitas. Bahkan, UVA dan UVB hadir sepanjang tahun meskipun sedang berawan dan dapat menembus jendela se-hingga itulah kenapa kita membutuhkan perlindangan dari sun protection. Vitamin E Mois-ture-Protect Emulsion SPF 30, PA+++ menjadi pilihan tepat untuk diaplikasikan setiap pagi setelah essence. Tidak ada salahnya untuk menambahkan sunscreen dengan tingkat SPF dan PA tinggi seperti Skin Defence Multi-Protection Essence SPA 50 PA+++ bila kamu lebih banyak beraktivitas di luar ruangan.
Jaga Kelembapan Saat Tidur
Saat tidur, kulit beregenerasi untuk berganti menjadi sel yang baru dan meremajakan sel-sel kulit kembali. Menggunakan krim malam adalah salah satu cara terbaik untuk mem-berikan kelembapan tambahan setelah menggukana essence atau serum. Siapa yang tidak mau merasakan kulit yang halus dan lembap ketika bangun tidur? Produk Vitamin E Nour-ishing Night Cream yang kaya akan vitamin alami dan antioksidan ini akan diserap oleh kulit selama tidur dan rasakan kulit yang cantik pada esok pagi.
Tip: Tidak hanya wajah yang harus diaplikasikan, tapi gunakan pada leher untuk hasil yang merata dan maksimal.
ENJOY THE BENEFITS OF HYALURONIC ACID ON THESE PRODUCTS