KENALI SIKLUS REGENERASI KULITMU UNTUK WAJAH YANG BERJERAWAT
Kulit manusia terdiri dari 3 lapisan, yaitu Epidermis, Dermis, dan Hypodermis. Untuk kulit yang berjerawat, sering kali tidak menyadari bahwa ada siklus regenerasi kulit yang sangat berperan penting dalam menjaga kesehatan kulit. Untuk beberapa kasus, kulit yang mengalami masalah seperti jerawat dan noda yang sulit untuk hilang, diakibatkan oleh terganggunya siklus regenerasi kulit. Berikut ini adalah faktor yang menyebabkan munculnya jerawat:
- Ketidakseimbangan Hormon
- Permukaan kulit yang kotor, sehingga tersumbatnya pori-pori
- infeksi bakteri kulit
Dalam dermis, ada kelenjar minyak yang disebut kelenjar sebaceous. Kelenjar ini mengeluarkan minyak yang disebut sebum, proses perjalanannya melalaui folikel rambut dan keluar melalui pori-pori wajah. Hal ini bertujuan untuk membantu mengunci kelembaban di epidermis kulit. Kelenjar sebaceous yang terlalu aktif memproduksi lebih banyak sebum daripada kelembaban yang dibutuhkan oleh kulit. Hal ini dapat menyebabkan kulti berminyak berlebihan dan menimbulkan noda pada kulit serta pori yang membesar. Kotoran yang terkumpul dan menyumbat inilah yang menyebabkan komedo hingga peradangan jerawat. Untuk kalian yang sedang mengalami masalah dengan jerawat, mulai untuk ikuti langkah berikut:
1. Cuci Muka Secara Teratur
Pembersih wajah dengan tekstur gel yang ampuh membasmi bakteri sekaligus membersihkan kulit agar tampak lebih bersih bisa gunakan The Body Shop Tea Tree Facial Wash. Dengan kandungan Tea Tree dari Kenya yang memiliki sifat anti bakteri, kulit akan jauh dari jerawat.
Tip: Untuk memberikan rasa squeaky clean, gunakan facial flannel untuk mengangkat sisa debu dan kotoran secara maksimal.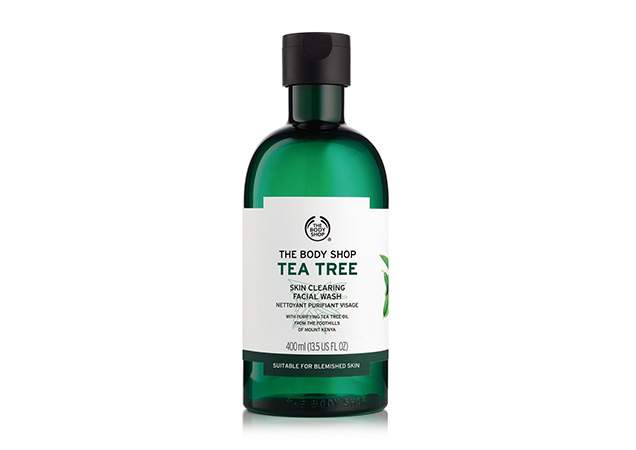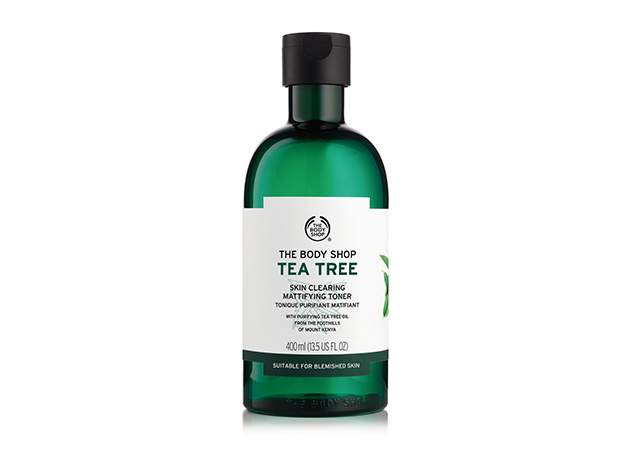 2. Segarkan dengan Toner
Segarkan dengan Toner Jangan pernah lupakan toner untuk menyegarkan dan menghilangkan residu cleanser, makeup, dan kotoran. The Body Shop Tea Tree Skin Clearing Toner secara efektif menyamakan warna kulit dan mencegah timbulnya jerawat. Tidak terasa lengket, meinggalkan kesegaran serta mattifying powder untuk kulit bebas kilap.
Tip: Aplikasikan dengan lakukan shake terlebih dahulu, lalu gunakan organic cotton untuk bersihkan wajah dan leher.
3. Hilangkan Jerawat
Perlu untuk menggunakan spot treatment agar dapat melawan noda jerawat yang membandel. The Body Shop Tea Tree Oil adalah sebuah concentrate dengan formula tea tree essential oil sebanyak 15% yang memberikan solusi untuk membantu menjaga kuit tampak bersih dari jerawat dan komedo.
Tip: Gunakan cotton buds untuk mengaplikasikannya agar menghindari dari penyebaran bakteri lewat jari.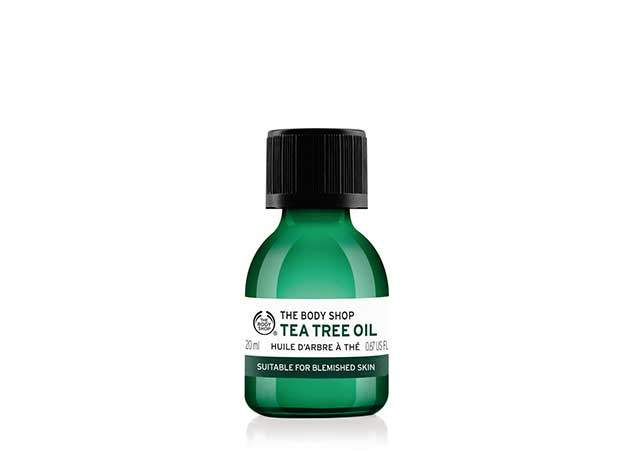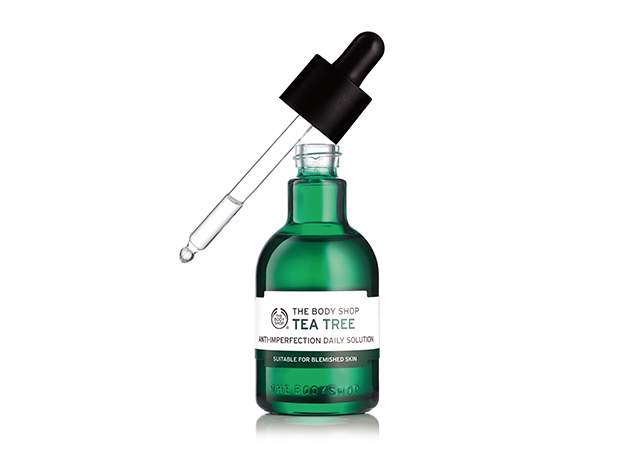 4. Solusi Jitu untuk Noda Jerawat
Setelah jerawat hilang, terkadang hal yang paling sulit untuk dihilangkan adalah nodanya. The Body Shop Tea Tree Daily Solution dapat membantu mengembalikan tekstur kulit dan menyamarkan noda bekas jerawat. Hanya dalam waktu 4 minggu, kulit akan terasa lebih sehat, bersih, halus, bebas kilap dan berkurangnya redness.
Tip: Setelah lakukan pembersihan, toning dan mempersiapkan kulit dengan essence lotion, aplikasikan The Body Shop Tea Tree Daily Solution keseluruh wajah dan leher sebelum menggunakan krim mata dan pelembab. Pastikan untuk aplikasi produk ini setiap hari, karena dengan penggunaan yang efektif dan rajin, Tea Tree Daily Solution ini dapat bekerja seperti pre-serum yang efektif menghilangkan noda.
5. Mengontrol Minyak
Untuk kulit yang mengalami jerawat dan kulit berminyak secara berlebihan, pelembab yang cepat meresap dan non-oily bisa mengontrol minyak pada sebum. The Body Shop Tea Tree Skin Clearing Lotion bisa jadi produk yang lembut dan melembabkan kulit serta membantu tampilan kulit tampak matte sepanjang hari.