Tips Bikin All Day Matte Look, Nggak Perlu Ribet Touch Up!
Cantik bebas kilap sepanjang hari tanpa touch-up, bisa jadi impian sebagian besar perempuan yang dituntut pakai makeup dari pagi hingga malam. Apalagi, bagi si pemilik kulit berminyak yang harus rela touch up berkali-kali karena wajah terlihat oily. Calm down, yang kamu butuhkan hanyalah all day matte look yang tepat, seperti yang akan diulas pada tips berikut ini.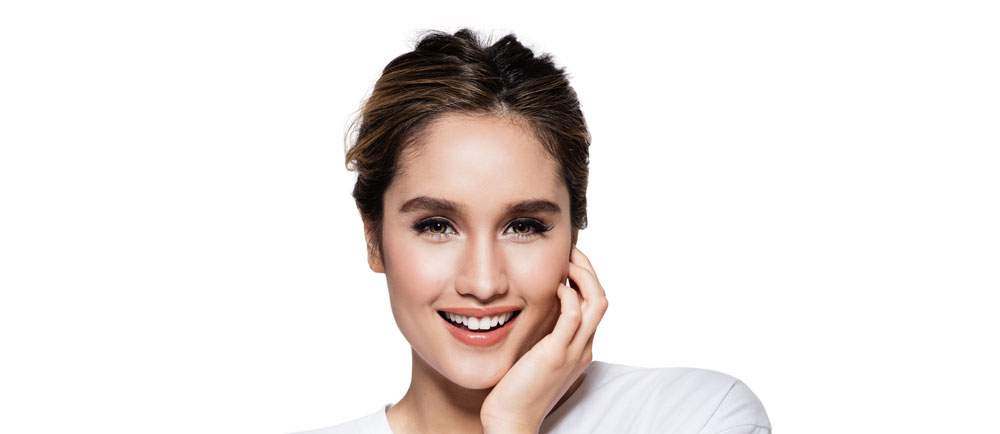 Preparation
Untuk membuat all day matte look, hal pertama yang harus menjadi perhatianmu adalah pastikan saat memakai makeup kondisi kulit nggak oily. Kamu bisa memulai persiapan ketika malam hari dengan melakukan eksfoliasi kulit. Ini merupakan cara instan untuk mengangkat sel kulit mati, membersihkan minyak dan kotoran pada kulit serta membuat kulit terasa lebih halus. Selain eksfoliasi kulit, kamu juga bisa menggunakan masker lumpur atau clay untuk mengurangi kadar minyak pada kulit.
Gunakan Skincare sebelum makeup
Pakailah skincare sebelum mengaplikasikan makeup. Hal ini penting untuk menjaga keseimbangan kadar air pada kulit dan juga membuat makeup yang teraplikasikan di wajah mudah menempel di kulit dan tahan lama. Untuk mencegah kilap berlebih, gunakan juga oil-free mattifying primer sebagai dasar makeup. Cara ini membantu mengontrol minyak pada wajah sehingga mempertahankan tampilan matte pada wajah.
Foundation
Memilih foundation yang tepat adalah kunci untuk mendapatkan all day matte look yang maksimal. Pastikan kamu memilih foundation yang memberi full coverage pada wajah, seperti The Body Shop Matte Clay Foundation. Tuang foundation di punggung tangan secukupnya, lalu gunakan Complexion Blender yang sudah dilembapkan agar foundation tidak menyerap sepenuhnya. Gunakan foundation di area kontur wajah. Mulailah dari tulang pipi, dagu, kening, dan tulang hidung. Lalu, ratakan dengan Complexion Blender hingga tampak sempurna.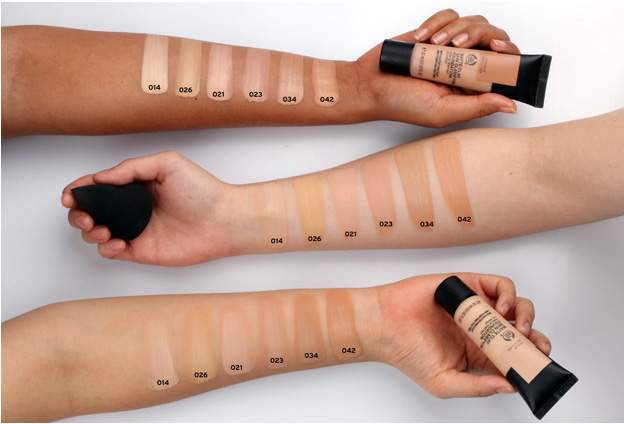 Swatches Matte Clay Foundation

Seperti namanya, Matte Clay Foundation ini memberikan finish yang matte karena memiliki kandungan Moroccan Lava Clay yang mampu mengontrol kelebihan minyak pada wajah. Selain itu, terdapat kandungan Tea Tree Essential Oil yang membantu mengurangi munculnya jerawat, breathable dengan formula ringan dan pastinya full-coverage. Beberapa dari kamu pastinya ikutan ngeri dengan isu animal testing yang digunakan pada makeup. But, calm down, Matte Clay Foundation ini 100% vegan formula jadi animal cruelty free. Foundation ini nggak hanya bisa digunakan oleh si pemilik kulit berminyak saja kok, tapi cocok digunakan oleh semua jenis kulit.
Cheeks and Eyes
Sempurnakan tampilan wajah yang matte dengan riasan matte blush pada pipi yang telah diratakan hingga hairline. Untuk tampilan mata, gunakan eye primer dulu sebelum menggunakan eyeshadow, agar lebih tahan lama. Pilihan warna nude bisa membuat matte eye look yang stunning banget, lho!
Last Touch
Berikan sentuhan terakhir pada all day matte look milikmu dengan lipstik berwarna manis dan juga menawan. Kamu bisa menggunakan pilihan warna nude seperti beige, latte dan mocha untuk membuat wajah tampak lebih cerah.
Itulah beberapa tips yang bisa kamu aplikasikan untuk mendapatkan all day matte look yang sempurna. Tanpa harus bolak-balik re-touch, kamu bisa mendapatkan look yang cantik bebas kilap sepanjang hari. Apalagi dengan The Body Shop Matte Clay Foundation, dari pagi hingga malam tampil maksimal pun bukan lagi mimpi. Selamat mencoba!