up to 50% on selected products, It's time for you to splurge yourself on our most awaited and biggest sale!
Terms & Conditions:
- Promo only applies ONLINE
- Flash Deal promo applies on selected items daily from 12 PM to 2 PM (Indonesia Western Standard Time), while stock lasts.
- You have to log in to your account on flash deal promo
- Adding the item to cart does not guarantee your Flash Deal promo.
- Check out and submit your order as soon as possible to reserve your Flash Deal promo.
- If customer is late in submitting the order, customer may still purchase the item in normal price.
- Please check the total amount before you submit your order.
- The Body Shop Online is not responsible for changes in Flash Deal price.
- Each account is limited to 1 (one) Flash Deal item each day.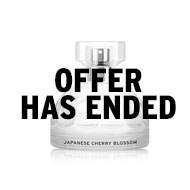 24 AUGUST
JAPANESE CHERRY BLOSSOM EDT 50ML